As one walks into the gates of the National Art Gallery of The Bahamas (NAGB), they are confronted by a large and beautiful building, reminiscent of traditional colonial architecture. The grounds surrounding the NAGB building are lush with many statues. If one peeks around the southern corner of the building, however, tucked neatly in the middle of an island of grass is the concrete Crawfish Woman.
Created by Bahamian intuitive artist, Wellington Bridgewater, Crawfish Woman came to the NAGB with two other pieces by Bridgewater, Serpent Woman and Angel with Trumpet. Born in 1948, Bridgewater is known as one of the few true Bahamian intuitive artists, as he is completely self-taught. A jack-of-all-trades, Bridgewater added painting and sculpture to his extensive repertoire in the early 1990s. Easily recognizable, Bridgewater is known for his distinctive style that encompasses strong, vivid colors in his paintings, biblical themes and large concrete sculptures. Bridgewater has pieces in the National Collection of The Bahamas at the NAGB and many private and corporate collections.
Made of Portland cement over a rebar frame, Crawfish Woman is a captivating sculpture that has many interpretations. Due to its large size, the sculpture is in itself very personable, almost imposing, as viewers are able to go close to the sculpture, feel its earthy texture and interact with it from their own eye-level. The sculpture's concrete medium gives it a rough and natural texture, making this Crawfish Woman seem so much more alive than she actually is. Her spindly legs are all too real, as if they could come over and scrape the viewer at any moment. The strength of Crawfish Woman, however, lies in Bridgewater's skillful rendition of this hybrid woman, one both human and crawfish, holding a child, not so delicately in her arms. The child itself is terrifying, an unrecognizable species that is thrashing in her arms, one can almost hear it scream if they spend enough time with the piece.
Conversely for some, Crawfish Woman is less a piece of terror and mystery but a sculpture that brings forth softer perspectives. For some, the texture of the piece is not rough or scrape-like but rather a form of natural softness, a sort of caress. The child in her arms may not be screaming, but fidgeting in an ordinary childlike manner. For others, the piece may symbolically transform and represent a moment of divine tenderness, a snapshot in time between a doting mother and her child.
All of these aspects, the size, texture and style of the piece add to its magnificence. Symbolically, however, viewers are left to ponder the origins of Crawfish Woman. Is she a Bahamian rendition of the biblical Madonna and Child? Is she some sort of creation myth, a fusion of Bahamian folktales and strong spiritual conviction? Or is this a form of folktale art, a visual depiction of our Bahamian past and beliefs?
At the end of the day, Crawfish Woman is a subtly powerful piece with many possible visual interpretations and symbolic meanings. Perspectives on this piece are entirely dependent on the histories and past experiences of the viewer. So come to the National Art Gallery of The Bahamas and experience for yourself the beauty of Crawfish Woman and let us know your perspectives on this piece.
-AK
Works Cited
Artist Biographies. Wellington Bridgewater. The National Art Gallery of The Bahamas.
This biography and other artist biographies are available at the NAGB Art Library.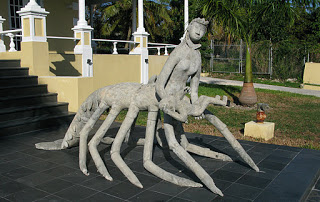 Crawfish Woman
Portland Cement over Rebar Frame
Unknown Dimensions
ND
1998
Collection of the National Art Gallery of The Bahamas