The NAGB partners with the BHS to host a unique potcake workshop
By Katrina Cartwright
The National Art Gallery of The Bahamas (NAGB) is adding lots of bark and a huge dose of adorable to its first exhibition-related fall workshop. In partnership with the Bahamas Humane Society (BHS), the NAGB is hosting a special adopt-a-thon paired with a workshop today, October 13th between 10 a.m. and 1 p.m. that invites visitors to play with and/or adopt a puppy, then create a "patchwork potcake"—a collage that reflects the personality of their favourite canine! This unusual workshop can be joined at any time during the three-hour period and will have a reduced price: $10.00 for adults and $5.00 for children. This is a great family event and ten percent of all proceeds will go to the BHS!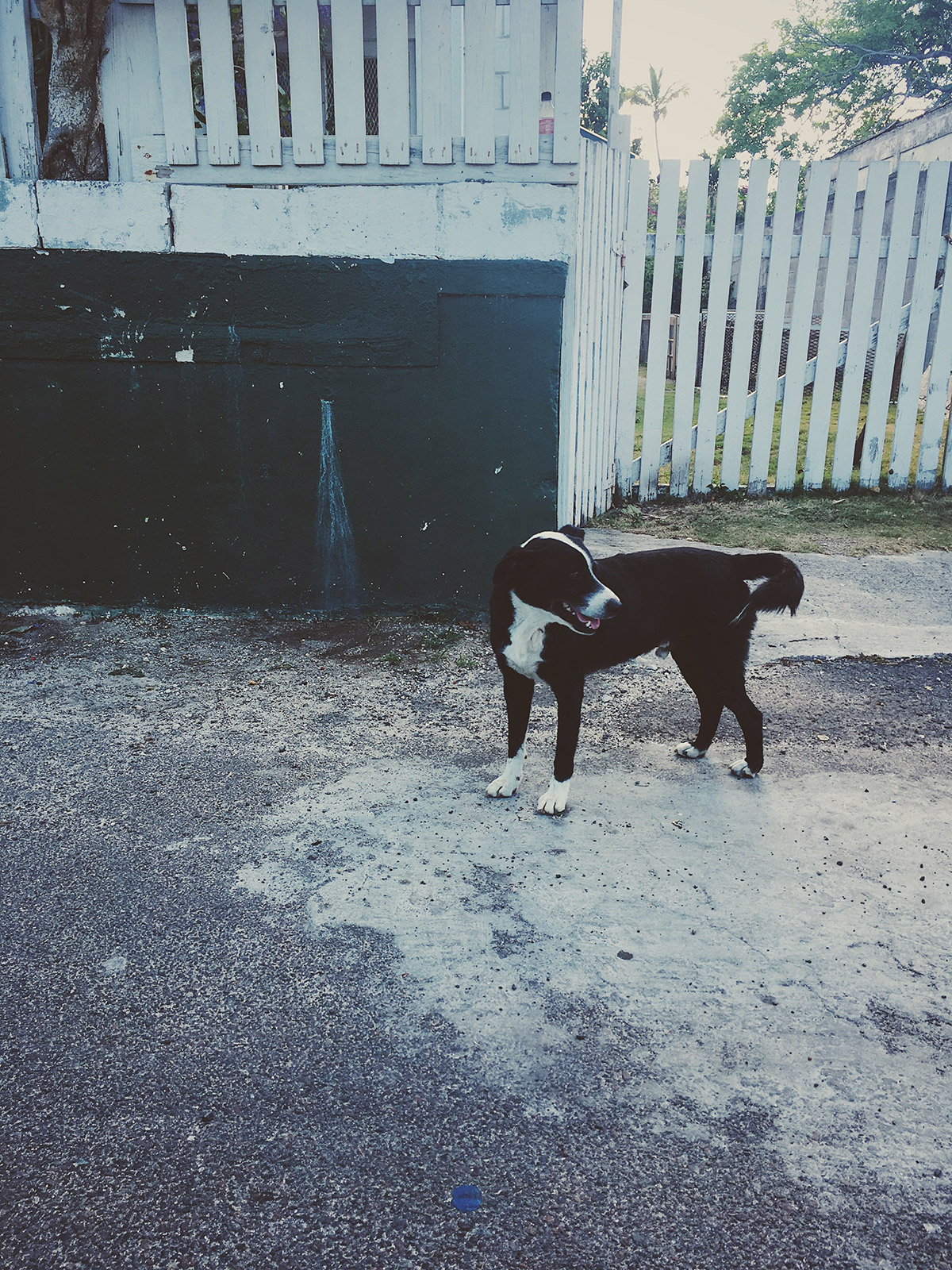 NAGB neighbourhood potcake, Shadow. Image by Holly Bynoe
The NAGB's exhibition-related workshops are held throughout the year and are designed to provide anyone—artistically inclined or otherwise—the opportunity to interact with the museum in fun and unusual ways. This year the NAGB decided to celebrate the Chinese Year of the Dog with an open call for artwork that honoured our national dog – the potcake. Selected submissions included paintings, drawings, sculpture, ceramics, printmaking, photography, video, textiles and mixed media.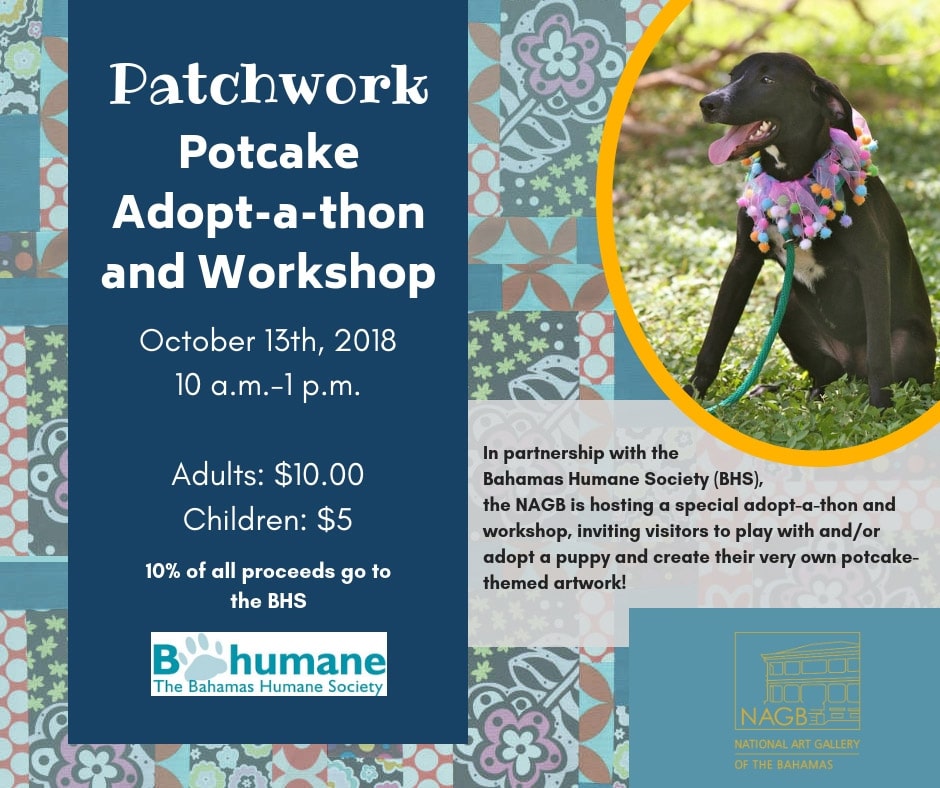 Opened on September 13th, 2018, the exhibition so aptly displayed our much loved and sometimes loathed canine, we had to design a workshop around it that not only provides a space for individuals to create even more artistic iterations of their potcakes but spread awareness of how important these resilient, unique, loyal Bahamian icons are to our culture.
The potcake is a staple of life in The Bahamas. Its presence not only speaks to the fragility of how we care for living things but also the strength and fortitude of these animals who become a part of our lives. By working with the BHS on this initiative the NAGB is giving participants the opportunity to see our potcakes through the eyes of others—after all art allows us to communicate ideas in different ways—meet other potcake enthusiasts and adopt their very own potcake for a minimal fee that covers the cost of vaccinations and spaying/neutering!
The mission of The Bahamas Humane Society is to eliminate unnecessary animal suffering and to promote responsible animal ownership through education, encouragement, and enforcement. It is a non-profit organization, comprised of a compassionate team, dedicated to promote the humane treatment of animal and prevent cruelty to animals through continuous education in a variety of methods, to end pet over-population through an aggressive spay/neuter campaign from 2013-2018 and as a result of the two objectives to become a no-kill shelter by 2020.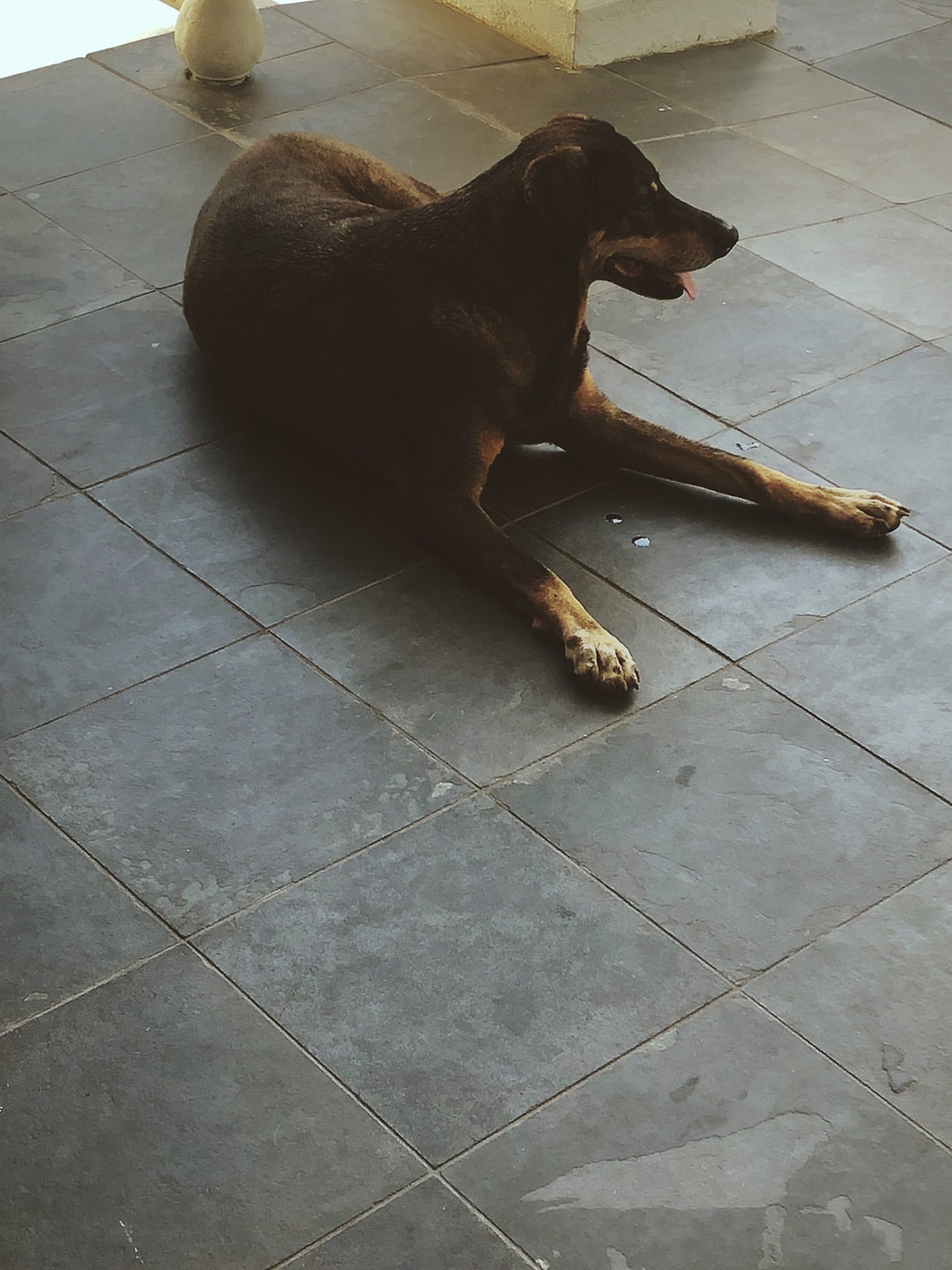 NAGB resident potcake, Mocha. Image by Natalie Willis
The NAGB is excited to support the BHS in this noble effort and encourages you to join us this Saturday to play with the puppies, create your very own artwork about your potcake, meet the hardworking staff at the BHS and get to know your museum and all of the offerings that have been designed just for you!