EXHIBITION
THE NATION / THE IMAGINARY
The National Collection
Curated by: Richardo Barrett & Letitia Pratt
Thursday, September 14, 2023
West and West Hill Streets
Nassau, N.P, The Bahamas
About the Exhibition
Picture this: a mounted frame of a sun-dappled beach, the coolness of an undisturbed shoreline, a photograph of a market woman, hands akimbo, with a warm, welcoming smile – these images have pervaded our cultural imagination, especially before independence, through centuries of crafting paradise along British imperialist lines. The National Collection, established in July 2003 to support the Inaugural National Exhibition by Dr Erica James, is filled with imageries of nationhood, whether that be in line with the colonial frame (such as the tourism photographs by Jacob Coonley) or concerned with deconstructing the paradisical myth that haunts our daily lives (such as Max Taylor's Down and Out, 1 & 2). The work acquired  by the museum reflects how we identify as a Bahamian people, and how we respond to different matrices of oppression.
In the essay "Art of The Bahamas: An Era of Negotiating Self-Definition", poet Patricia Glinton-Meicholas states that Bahamian artists have been among the leaders in negotiating the redefinition of Bahamian ethos and identity. She argues the museum's importance in nurturing this process: "Well positioned, the museum coaxes Bahamians into discovering and valuing a truer history, heritage, and culture of our country. It also encourages appreciation of the real genius of our people […]." (included in  ) To this end, the National Art Gallery of The Bahamas has been a hub for intellectual and artistic ingenuity, fostering a space where Bahamian artists are free to imagine who we are beyond ideas imposed by tourism and false paradise.
This exhibition, The Nation/The Imaginary, explores juxtapositions of myth/reality, paradise/plantation, and the importance of the imagination in transcending colonial ideation. As artists bear witness to our political coming-of-age, they craft stories that challenge power and help guide us towards self-knowledge. With over 500 pieces, the collection is only a snapshot of this story/making – which is a great place to start to imagine.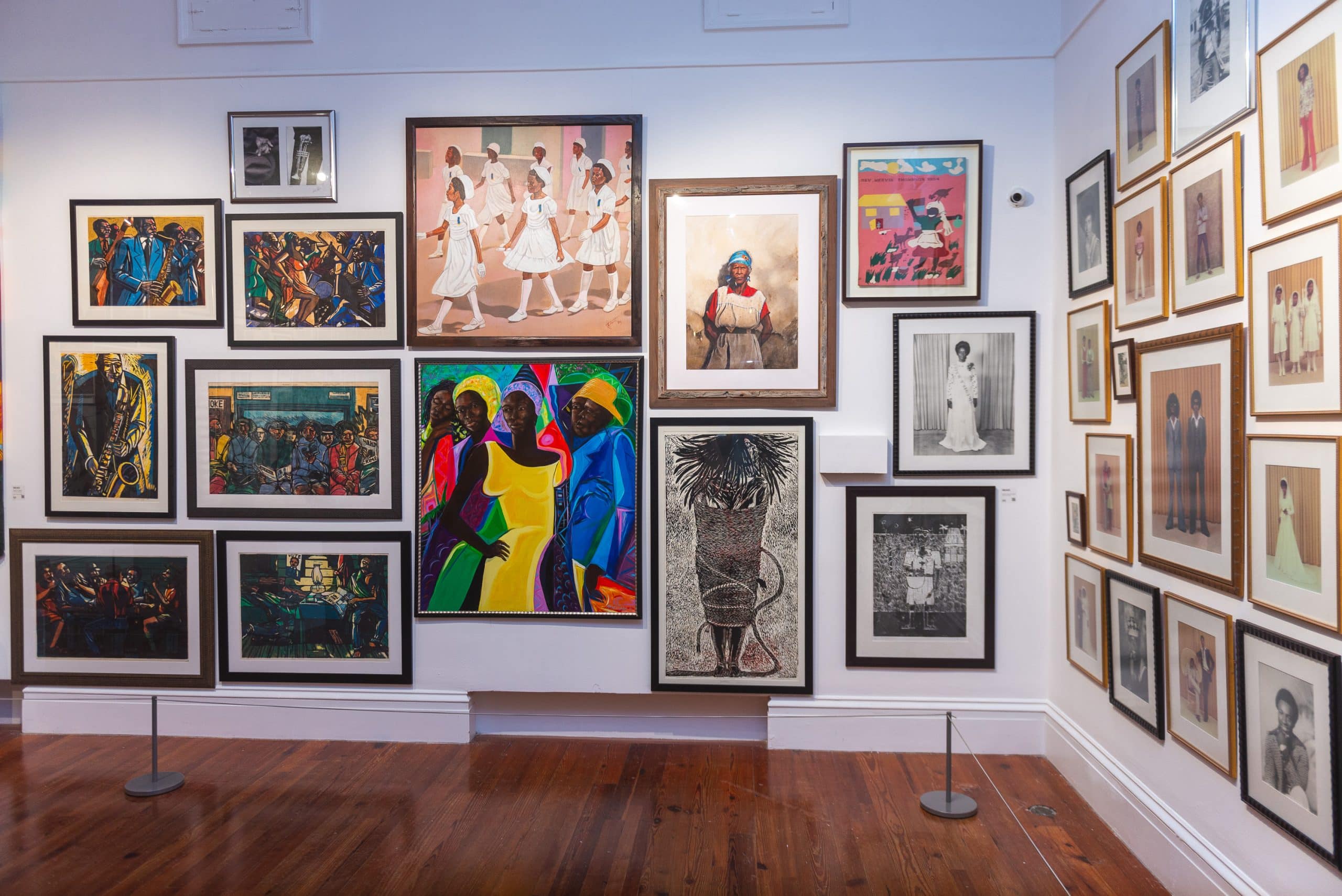 On Building a Nation
The prevailing image/myth of 'Bahamianness' stems from early constructed ideas of paradise – ideas that the islands  a place of exotic beauty and infinite pleasure reserved only for the traveller's experience. Rarely are these attributes thought to include the inhabitants of these islands; indigenous Lucayans and contemporary Bahamians suffer the same fate of this myth/making, where the colonial eye mythologizes their home, their bodies, and their culture in favour of the paradisiacal lie. It is a tale as old as colonial encounters; Columbus romanticises our landscape as beautiful and easily exploited: "All these islands are very beautiful, and of quite different shapes; easy to be traversed, and full of the greatest variety of trees reaching to the stars."(5) This notion of "ease" has seeped into the zeitgeist so much so that a lot of the imagery considered quintessentially Bahamian includes the picturesque – a landscape ripe, sanguine, and ready to be traversed.
Several works in our collection reflect this colonial gaze. In this section of the exhibition, we explore the picturesque throughline of Downtown Nassau: from West Bay Street, through East Bay Street, and towards Over-the-Hill communities such as Bain and Grants Town. A small snapshot of pre- and post-1973 Bahamas emerges, highlighting the environments that have come to define Bahamian nationhood over time.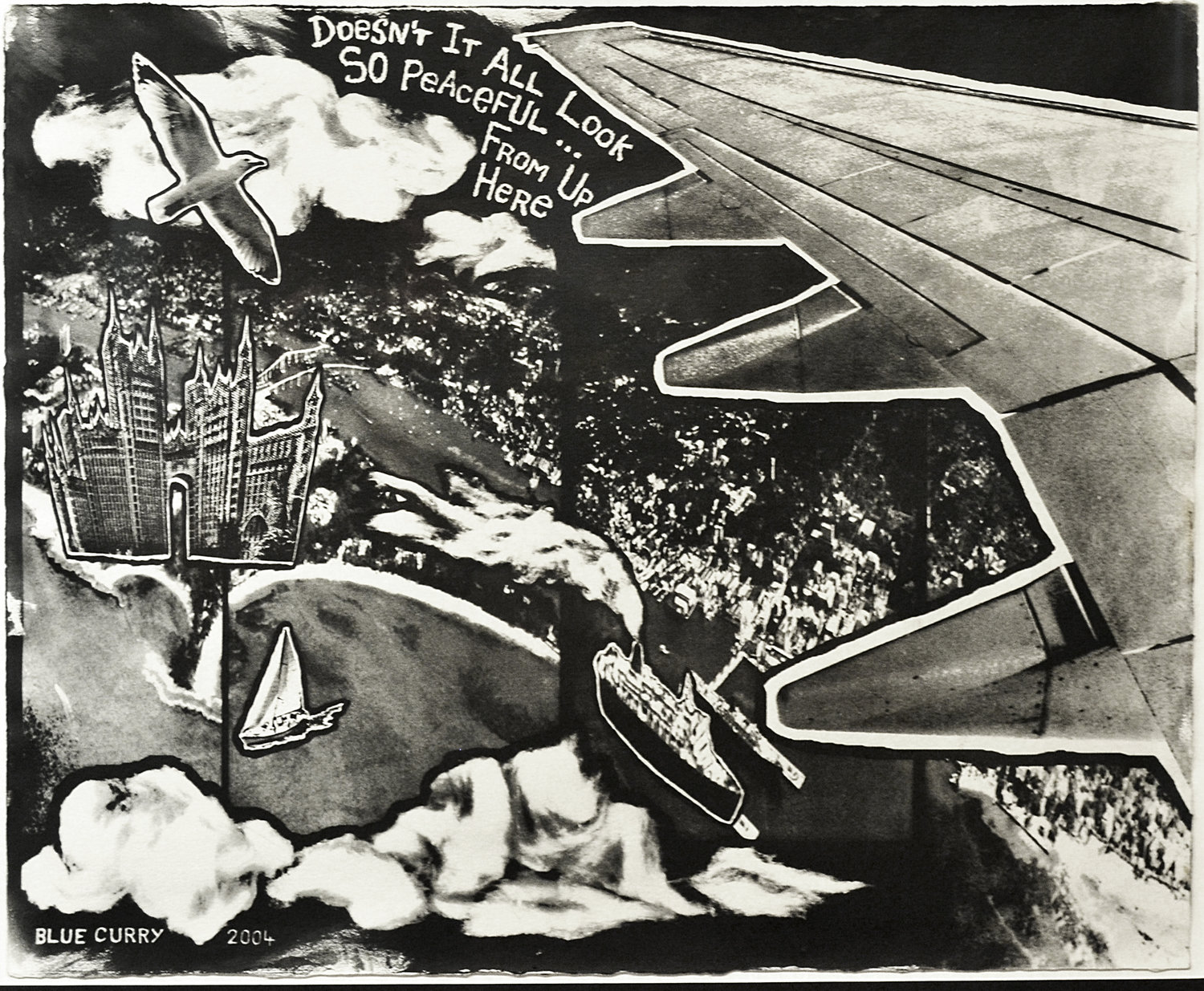 "Nassau From Above" (2004), Blue Curry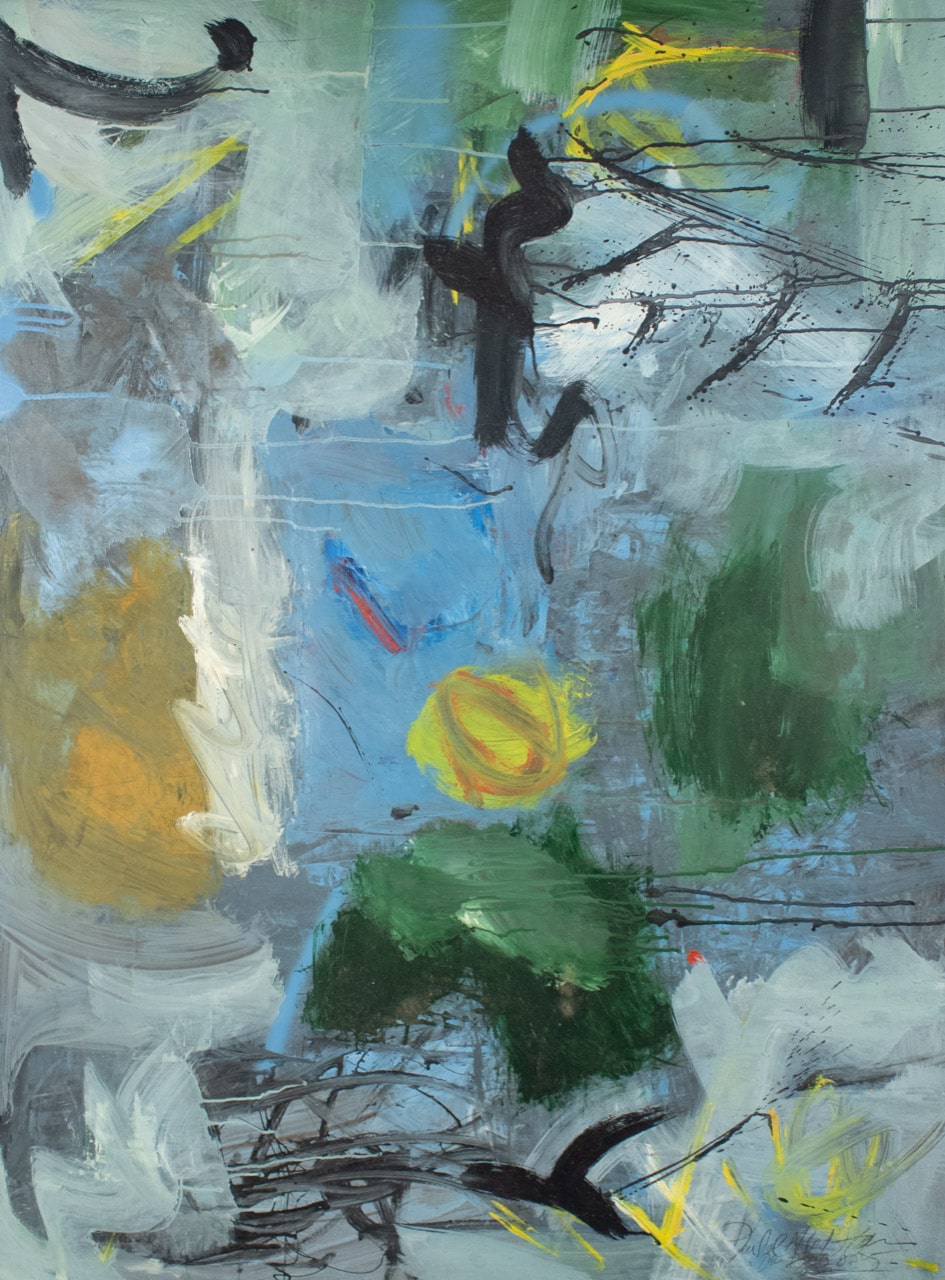 "Environmental Force" (2005), Kendal Hanna
A Note on the Imaginary
In this section, we see contemporary Bahamian artists contend with different truths, crafting stories in their own voice and creating new ways to visualize 'Bahamianness.'
Subverting the paradise/plantation model and rejecting colonialist imaging is essential to Bahamian spiritual and psychological survival. Artists grapple with this as they capture the truths of living in our reality – questions like 'What is real?' and 'How can we transcend coloniality?' are often the intellectual backbone of the works that critique the paradisiacal. The imaginary, in this sense, is not only the falsehood that has imbricated these islands for centuries, but is also a tool of escape, a vehicle that pushes for truth, progress, and new visions for the Bahamian future.
Max Taylor: Deconstructing the Imaginary
Over the past twenty years, the museum has been fortunate to collect a substantial number of Max Taylor works. Maxwell Taylor (b. 1939, New Providence), a skilled printmaker and painter, is deeply influenced by the black power movement of the 1960s. Often, his work tackles human rights issues and illustrates the realities of living in a space enmeshed in capitalism, racial oppression, and misogyny. Throughout his career, Taylor depicts scenarios experienced by the "common" Bahamian – robust and hardworking men and women, either placed in traditional settings of home life, or protesting an oppressive regime. These depictions deconstruct ideals of the picturesque/paradise imposed on the Bahamian scape.
"Down and Out I & II" exemplifies this deconstruction: the print reflects the home of young locals who despair over the struggles they endure – as reflected in the agglomeration of the subjects' small, crowded room. Despite the obvious mood of the piece, the male subject wears a "It's Better in The Bahamas" t-shirt, a tongue-in-cheek nod to a tourism catchphrase that took root in the 1970s and is still repeated to this day. Indeed, the  becomes ironic in this scene, as the phrase is meant to reflect a welcoming façade for potential travellers and project an environment of ease and opulence. This is not so for Taylor's subjects – and is often, argues Taylor with these prints, not the case for most working-class Bahamians. It is almost as if Taylor himself asks the question "for whom?" is it better in The Bahamas,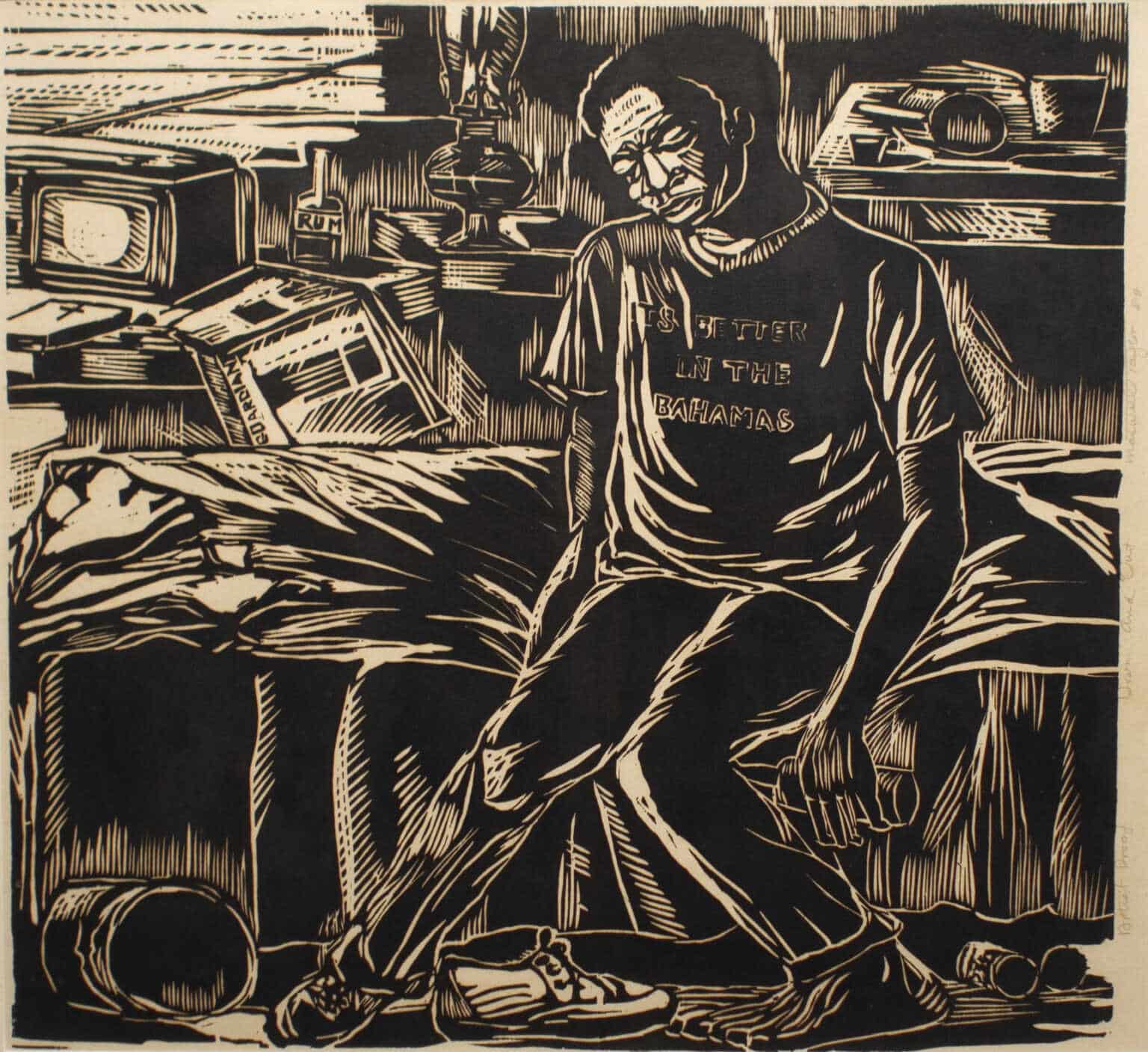 "Down and Out (It's Better In The Bahamas)" (1987), Max Taylor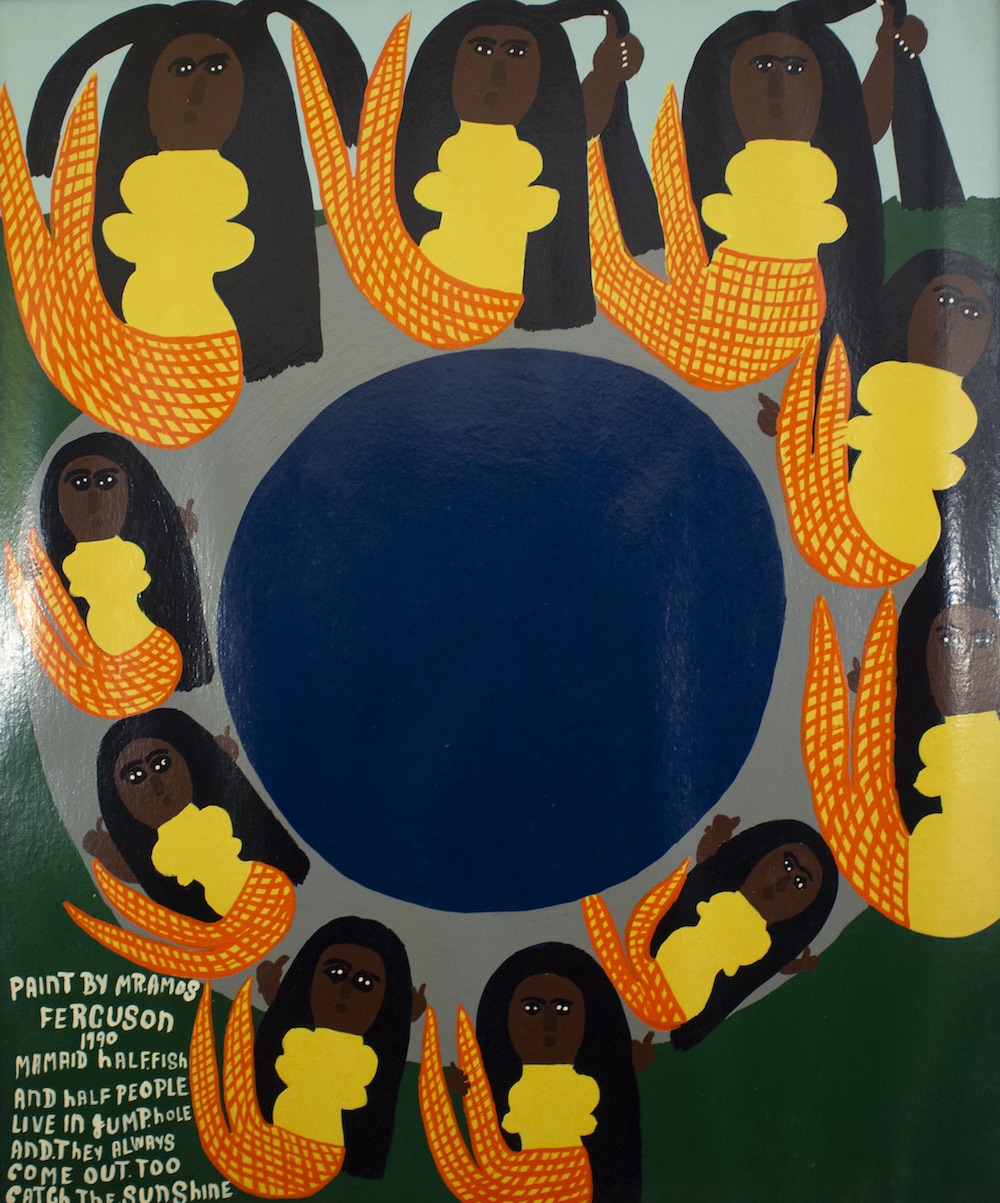 "Mamaid Half. Fish And Half People Live In Jump. Hole And They Always Come Out. Too Catch The Sunshine" (1990), Amos Ferguson
The Myth/Making of Amos Ferguson
Amos Ferguson (b. 1920, Exuma – d. 2009, New Providence) is the country's most renowned self-taught artist – gaining international recognition in 1985 in a solo show called "Paint by Mr. Amos Ferguson" at the Wadsworth Atheneum in Hartford, Connecticut. Ferguson is best known for painting scenes from iconic Bahamian stories that permeate our culture; from folklore like the mermaids that live in the blue holes to Bible scenes like Jesus' temptation by the Devil. His oeuvre also includes portraiture of Bahamian peoples in history – such as Sir Milo Butler, the playing Police Band, and the everyday people whom he gives affectionate names, like "Long Leg Lizzie."
The myth/making found in Ferguson's practice exemplifies the narrative voice that is essential to Bahamian culture. One of the foremost decolonial tools, storytelling is an inherent part of how we communicate, not only through our literary forms, but in our music and art. This characteristic is especially potent in our folk traditions – where the artist would laud their own voice as the source of truth, spirit, and knowledge   Dr. Erica James writes    that the narrative trope is often found in the work of the self-taught artist, saying "they positioned themselves as artist apostles and filled their work with narrative power equal to that of the gospels." (included in exhibition catalogue ). Ferguson's work is a masterclass in capturing the spirit of Bahamian myth – subverting the notion of silence/suppression that was foisted on us through history.
The Image of a Nation
A great number of artists in the collection refute the  narrative of a Bahamian paradise through portraiture. This genre often engages the image of the locals, focusing on people that can be found in daily Bahamian life. For example, paintings like Ward Minnis' "Mizpah Glinton", "Glenda Black", and "Mikey Frances" show a side of Bahamians missing from tourism advertisements, which often relegates locals to the background, to be a part of an environment made entirely for the traveller's consumption. Portraiture is good at humanizing people and creating familiarity – and a wonderful way to juxtapose the dehumanizing eye of colonialism.
This self-representation is evident in the studio photography of Antoine Ferrier and Sanford Sawyer, featuring Bahamians of all ages and backgrounds photographed between the 1950s and 1970s in two of the first photography studios located in Over-the-Hill communities. These portraits – like Taylor's printmaking and Ferguson's painting – capture the essence of Bahamian locals during great political and social change for The Bahamas, where the nation was being influenced by black power movements across the United States and the Caribbean. Dr. Krista Thompson writes extensively about the cultural   from these studios generated, stating that they captured Bahamians "at a crucial time of social and political transition, locally and globally, when British colonial rule and the much vaunted ideals of British respectability were actively being challenged." (12). These portraits reveal the ethos of a Bahamian identity that was just beginning to form.
For the past 50 years, the people that live on these islands have been negotiating various identities to unearth what it means to be a true-true Bahamian – and at the forefront are the artists who craft the image of the nation through their own experience. When we assemble these stories/images, what emerges is a compendium of 'Bahamianness': where self-making is an amalgamation of all the voices, stories, and myths that have come to define us over time.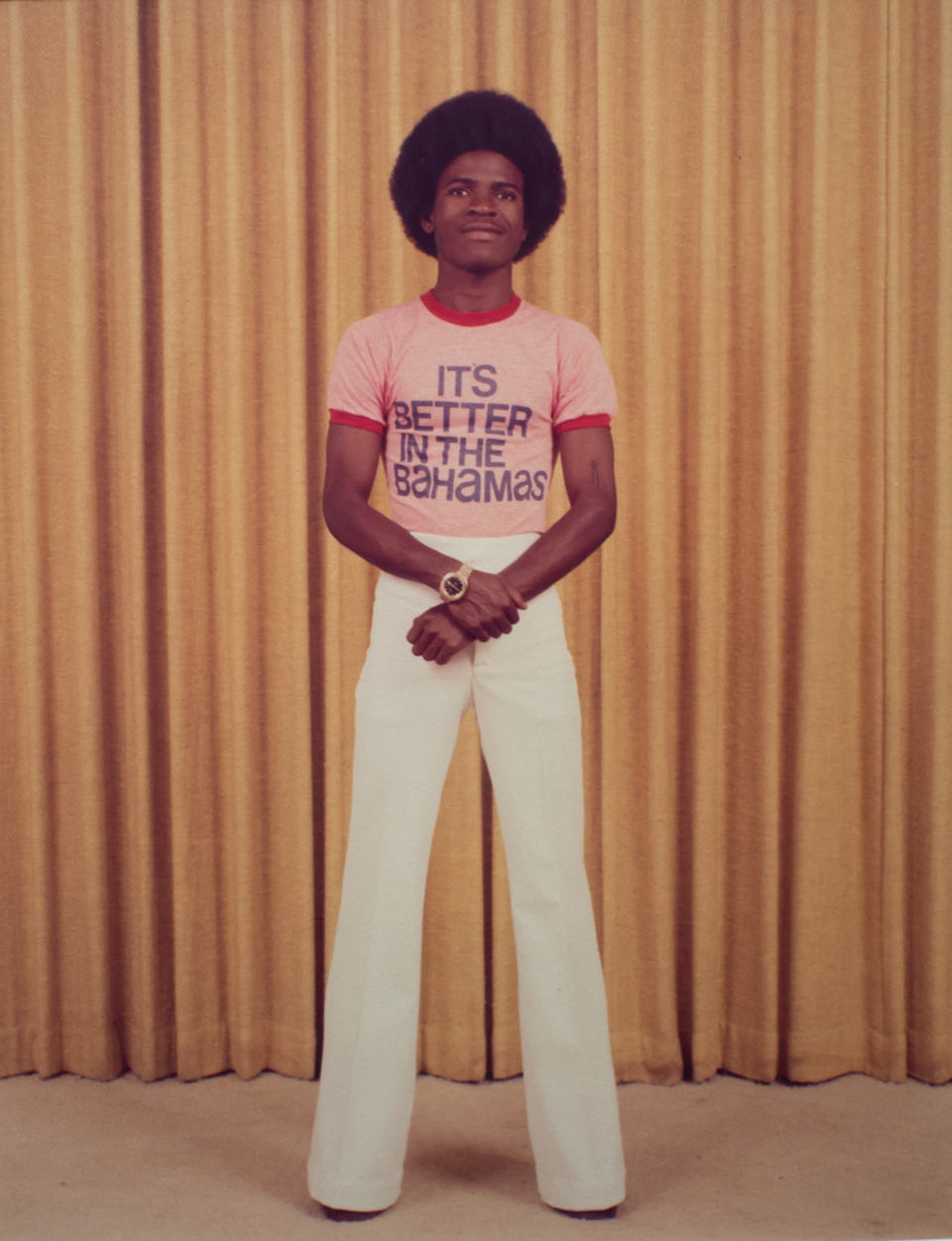 "Untitled 27 (It's Better in the Bahamas)" (1978), Sandford Sawyer
*Title available in the Mixed Media Museum Store.
No Vacancy in Paradise (2001), Patricia Glinton-Meicholas    
"The Dreamers", found in If I had the Wings (2017), Helen Klonaris   
How to be A True-True Bahamian (1994), Patricia Glinton-Meicholas*
"The Impossible Garden" found in WomanSpeak Journal (2012), Lynn Sweeting  
"Sonnet for the Moon"  found in WomanSpeak Journal (2012) Lynn Sweeting   
Gun Boys Rapsody (2015), Ian Strachan*
Woman Take Two (1987), Telcine Turner-Rolle  
"Ghost in Mr. Pratt's House" by Toinette Major, found in Once Below a Time, (1988) edited by Telcine Turner-Rolle   
"How the Bahamas Became an Archipelago" by Pamela Carey, found in Once Below a Time, (1988) edited by Telcine Turner-Rolle  
"How Brer Rabby tricked Brer Lion", found in Once Below a Time (1988), Telcine Turner-Rolle  
Pulling the Wings from Out my Back, (2017), Letitia Marie Pratt  
Discovery Daze (2011), Obediah Michael Smith   
"With My Sheep-Tongue Souse" found in Yinna, Vol. 1 (2000), Obediah Michael Smith
Blue (2022), Tanicia Pratt *  
Mama Lily and the Dead (2010), Nicolette Bethel  
Running the Dusk (2010), Christian Campbell     
A True and Exact History of the Island of Barbados (1657), Richard Ligon   
Guanahani, My Love (2009), Marion Bethel   
Bougainvilla Ringplay (2010), Marion Bethel  
"Lady Dorothy's Cash Garden", found in WomanSpeak Journal  (2012), Margot Bethel  
"So Immense a Thing" found in WomanSpeak Journal (2018), Marie Sairsignh   
Folk-Tales of Andros Island, Bahamas (1918). Various Authors, compiled by Elsie Clews Parsons  
"The Gaulin Wife" found in An Evening in Guanima (1993), Patricia Glinton-Meicholas  
An Olive Branch (2020), Yasmin Glinton-Poiter* 
Bain Town (2007), Cleavland W. Eneas  
"Riding out the Storm with the One-Armed Man" (2019), Emille Hunt  
Carnival of Love (2013), Ernestia Fraiser*  
Curry Flavor (2000), Lelawattee Manoo-Rahming    
Emancipation: I am My Own Creation (2017), Hillary Booker, Phd.   
Diary of Souls (2006), Ian Strachan   
"Anne Destroys the Planation" found in The Caribbean Writer Vol  24 (2010), Sonia Farmer  
"An Offering" found in The Caribbean Writer, Vol. 36 (2022), Letitia Marie Pratt  
"Snow Outside my Window" found in Yinna, Vol. 1, (2000), Christian Campbell  
7 Get Rich Schemes: The Government Doesn't Want You to Know About Just Because The Plans Are Slightly Unethical and Borderline Criminal (2021), Thomas Hannah  
"All Our Monsters" found in Short Tales, Vol II, (2019) S. A. Hannah  
Supernova Vol 1. (2016), Maz Joachin  
"I believe in Junkanoo" found in Yinna, Vol. 4 (2012), Maelynn Seymour-Major  
"Ode to a Red Seagrape Tree" found in Yinna, Vol. 4 (2012), Thea Rutherford   
"My Lover" found in PreeLit Online: New Caribbean Writing (2020) by Maelynn Seymour-Major  
"Drummer Boy" found in Yinna, Vol.2 (2007), Lelawattee Manoo-Rahming   
"For as long as I Remember" found in Tongues of the Ocean (2010), Margot Bethel   
"God Save Duh Queen" found in PreeLit Online: New Caribbean Writing (2020), Ide Thompson  
"Mango Season" found on Limestone Review (2021) by Xan Xi Behtel   
"I born a Gaulin Woman" found on Limestone Review (2021) by Xan Xi Bethel  
"Sip an' Talk" found in Tongues of the Ocean  (2010) by Angelique V. Nixon   
"The Tree of Life" found in Short Tales Vol. 3 (2020) by Gail Hannah  
"Turkey and Ham" found in Short Tales Vol. 1 (2018), by Heather L. Thompson   
"The Gaulin's Daughter", found in WomanSpeak Journal (2018), Alexia Tolas   
"Revenge," found in WomanSpeak Journal (2018), Lynn Sweeting   
When Doves Cry, (2000), Keith A. Russell