By Ashley Knowles
A typical museum has a variety of departments and a very important one is Membership. In a museum, one of the first things a visitor will see is a banner or some sort of leaflet, describing the advantages of joining with the institution. But what does membership exactly do? At The National Art Gallery of The Bahamas (NAGB) there is no separate department that makes up membership. Rather, Curatorial Trainee's, Nastassia Pratt and Averia Wright spearhead the NAGB's Membership Program. Straddling two teams, they have a lot on their plate.
To understand the Membership program fully, one must first talk about why it is so important to the NAGB. On a basic level, Membership is crucial to the continuation of the NAGB, the National Collection and Bahamian Art. Any monies collected from members goes directly into the Acquisitions Fund, which allows the Gallery to purchase Bahamian art for future generations. As a part of the NAGB's mission statement, the collection, preservation and documentation of Bahamian art for Bahamians are the building block of the institution. Without membership to assist, there would simply be no art bought.
The moment an individual becomes an NAGB member, they become part of the NAGB's mission and enter a large community of artist, collectors, art aficionados and the NAGB and all affiliating galleries and organisations intent on preserving, collecting and defining Bahamian art. NAGB members are also given special privileges such as free entrance into the Gallery, members-only tours and discounts in the Mixed Media store and any events. All of these incentives seek to encourage individual participation with the Gallery.
One exciting way that the Membership Department is encouraging participation in the Membership Program is by hosting the NAGB's first Annual Membership Drive Fair in the NAGB grounds on Saturday, July 28th from 11AM to 5PM. Including an admission fee of only $1, the fair promises a variety of activities and events for all ages. One unique quality of the Membership Drive Fair is its Art Raffle featuring prizes from, Toby Lunn (piece entitled, The Sorcerer's Hand) and Jessica Colebrooke.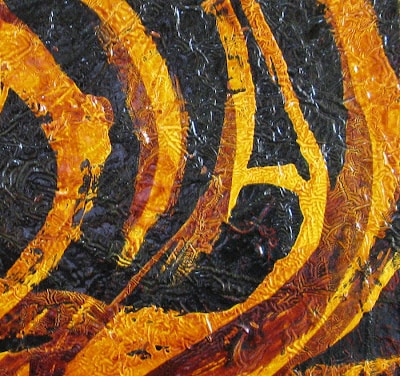 Toby Lunn, "The Sorcerer's Hand", (2011).
Lunn, a painter by nature has a long history of supporting and working with the NAGB. Recently in an extension of the Kendal Hanna Exhibition, "Happy Birthday to Me", Lunn hosted our "In The Likeness" painting workshop. As an artist that, Lunn has a stunning abstract style and uses a myriad of materials in his paintings like oil, stain and shellac and has worked alongside Kendal Hanna and exhibited in the 2007 'Fire' Exhibition. Colebrook, a well-known Bahamian ceramicist, is the owner of Jessica's Tileworks Studio LTD. Colebrook's style has strong natural influences with floral motifs fond often in her work and her work can be seen in the McDonald's Downtown, Marlborough St. franchise. Raffle Tickets are currently on sale at the NAGB.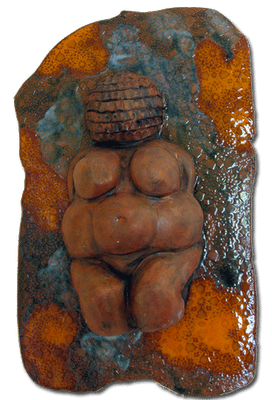 Jessica Colebrooke, The Venus of Guava Duff, N.d.
For the artistically inclined, guests have the chance to meet the wood artist and turner, Robin Hardy. Hardy will give demonstrations throughout the day and guests will even have a chance to make their own pen with him. There will also be 2 free tours given that day, that day at 1PM and 3PM. For the kids, there will be a bouncing castle, Paint Like Amos section, Graffiti Wall, Hoop-La table, Go Fish table and a bunch of sweet treats and refreshments! Parking will be available at the St. Francis Xavier church.
Altogether as the NAGB's concentration on membership grows, we expect the National Collection to reflect this, allowing visitors to get a more collective understanding of the Bahamian Art story. We encourage all to take up our responsibility to join us in our mission and become a member today and remember, belong to the NAGB… It belongs to you.
For further information on Membership or the Membership Drive Fair, volunteering and donating, please call 328-5800/1 or visit our website: here.