Tiffany Smith's Hypertropical Critique of the Otherness, Womanhood, and the Caribbean Image
by Natalie Willis
Lush greenery and deep, verdant darkness dotted with acid yellow and a turquoise too blue to be true – Tiffany Smith is master of the hyper-tropical. Her first time displaying at the NAGB, she is a region seasoned veteran for the Caribbean and Black diasporas respectively, having shown work in the US and in Jamaica for the Jamaica Biennial. Upon first glance, her intentions may be unclear to some – the dizzying patterns of leaves and multichannel videos give the eye no rest, it is a visual onslaught, and it is in this way subversive. Part of a throng of Black diaspora artists using over-embellishment to control space and control and critique narratives, Smith's work is a confusing melange of generalised Caribbeanness to those without a keen understanding of the region, and to those within it is a moment to contemplate the manufactured nature of what we visually export as "Caribbean".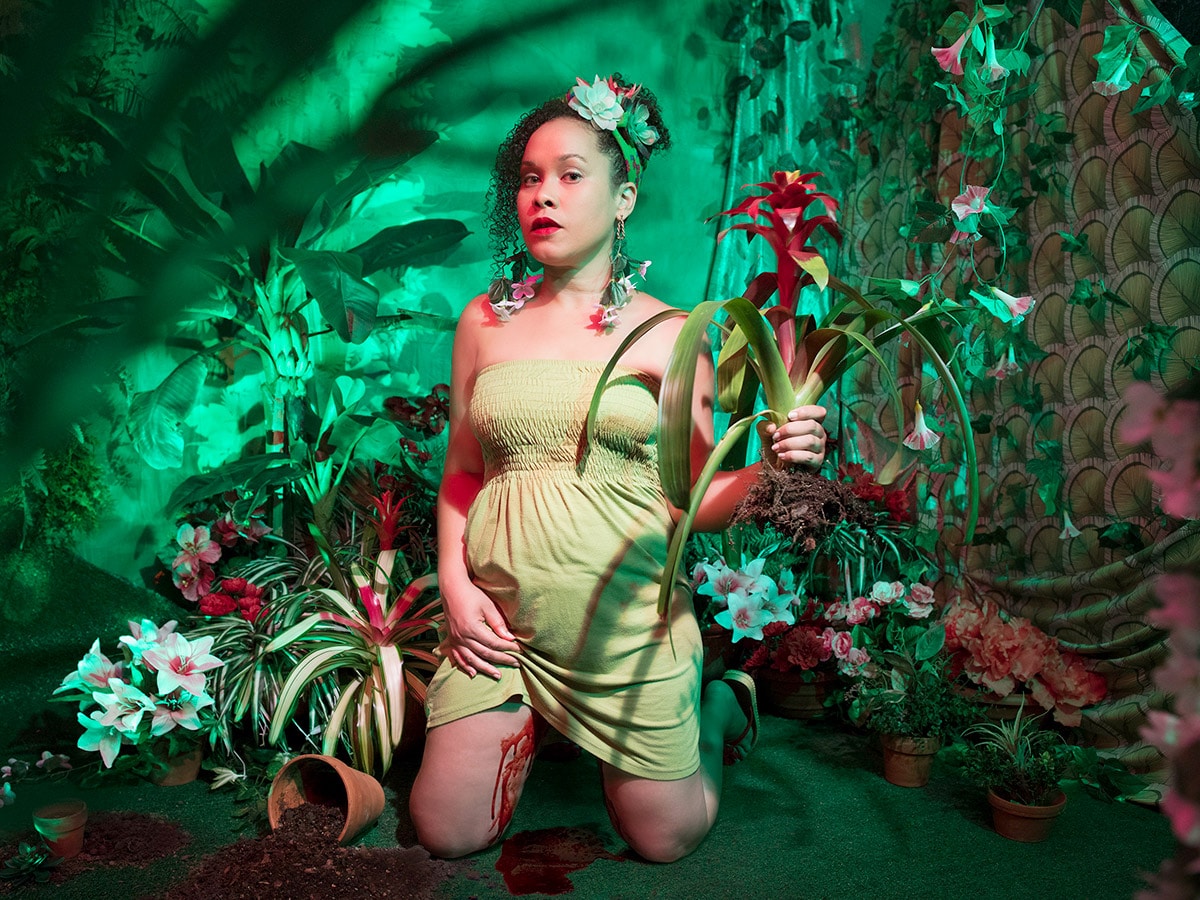 "Field Notes for Planting Seeds in Uprooted Gardens" (2018), Tiffany Smith, archival inkjet print, 36 x 48 inches. Collection of the artist.
Born to parents of Jamaican and Guyanese origin (the latter having grown up in Trinidad), Smith herself has a story that many of us understand in the region. She was born in Miami, as part of the family plans to gain citizenship and migrate to the US. But until everyone had their "papers", The Bahamas would serve as home base first, and rightfully so, given its positioning between the US and the rest of the Caribbean. While her work gives us space to contemplate the mythologies and fictions around Caribbeanness as the "brand", it also gives us moment to contemplate our own nationalist insecurities in the region.
The xenophobia is rife not just in The Bahamas, but in the region as a whole. We love to claim our Bahamian greats, but also stay conveniently quiet about their wider origins – for instance, Lynden Pindling had Jamaican heritage, and that very rarely gets mentioned anywhere except in conversation, let alone media. When the image we put forth as a region is ubiquitous, not allowing for the nuance of our experiences in this magical pocket of the Atlantic ocean, it's unsurprising that we feel such a fierceness in protecting what feels like fragile, photocopied versions of nationhood.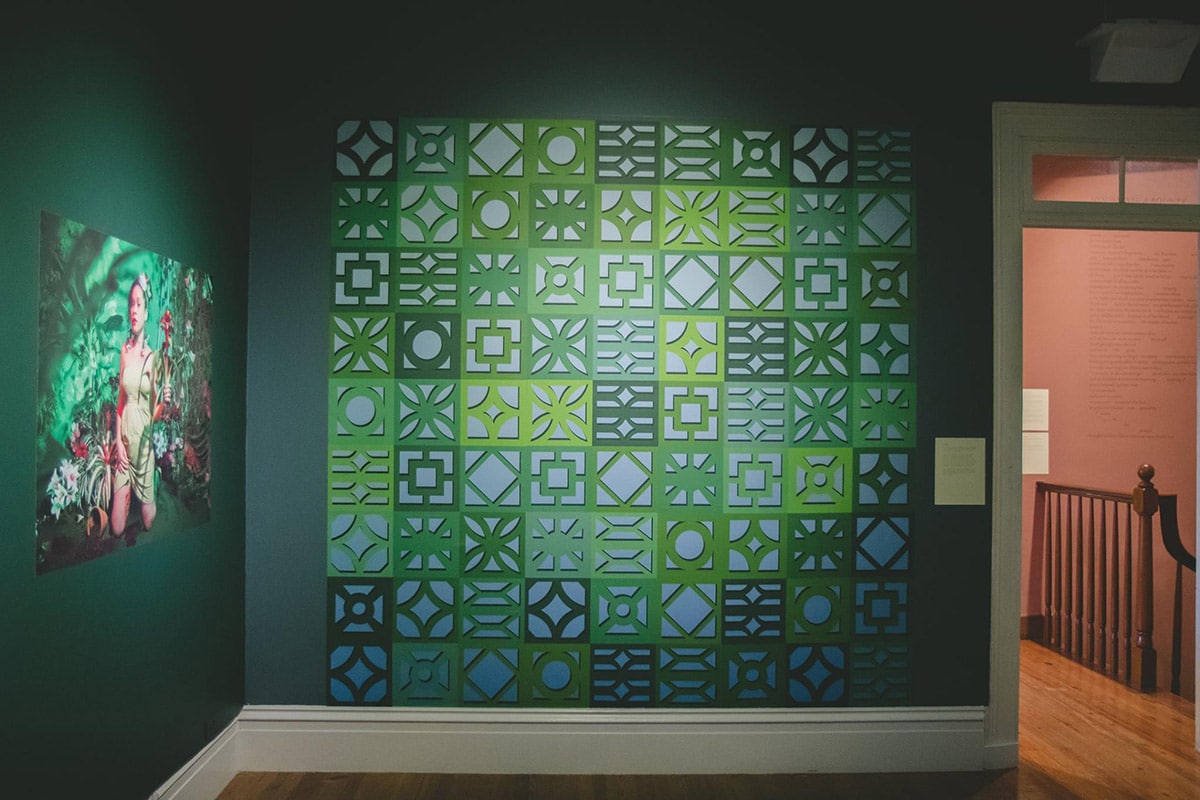 From the installation "For Tropical Girls Who Have Considered Ethnogenesis When the Native Sun is Remote" by Tiffany Smith
It is unsurprising, but it is still unforgivable.
Smith knows this, and it shows in a biting kind of playfulness in her work. She plays with the concept of Othering not just in the obvious sense of Caribbean versus the rest of the world, or Blackness versus whiteness – spaces in which she occupies a very particular inbetweenness. Smith also throws another layer into the mix with the national Othering we enact upon each other as Caribbean people, as many would be split on whether or not to consider her Bahamian. She is, and she claims it as she should as someone of Caribbean heritage having grown up here. But she also claims the experience of being an outsider – one foot in the water, one foot out. It is apparent in one of the films in which she is having her hair braided near the harbour for the cruise ships along Prince George's Wharf. The lady braiding her hair asks where she is from, naturally, as this is a tourist saturated area, and Smith goes on to explain her heritage – it is both a justification for the Bahamian hair braider, and a validation for herself of her own claim on this space.
Smith shares, "I can definitely say that I am playing with tropes of the tropical and of womanhood. I think what really spurred on the investigations in these bodies of work was in the way that women of colour in particular are represented in the media, and particularly the lack of nuance that's present there. I was investigating a lot of turn of the century ethnographic images of women of colour and really captivated by the gaze that was present there. Thinking of who was doing the looking, who was doing the posing, how much control and agency the subjects had in the image. Even how much control the photographers who were creating the images had over the way they were eventually read and dispersed after they came into use within society. I was very concerned with how these images were distributed to other parts of the world.  
I think the connective thread is about exoticism. There's a similar or shared exoticism of "ethnic women" – I hate that term, but the usage of it illustrates the way we are seen en-masse. It's awful because it's so nondescript, and it is used ubiquitously to describe a larger section of the populace of this world. It's a very colonialist term to say that someone is "exotic" and that's part of what I'm examining".
Our stories are intertwined, and Smith's videos of "Bahama Blues" give way to Guyanese greenery in the space she takes up in the exhibition – reflecting not just her heritage, but our shared experience. It only makes sense then to recognise our mixed origins, our shared histories, and the fact that we need more than a singular voice to tell the fullness and rich lushness of our stories.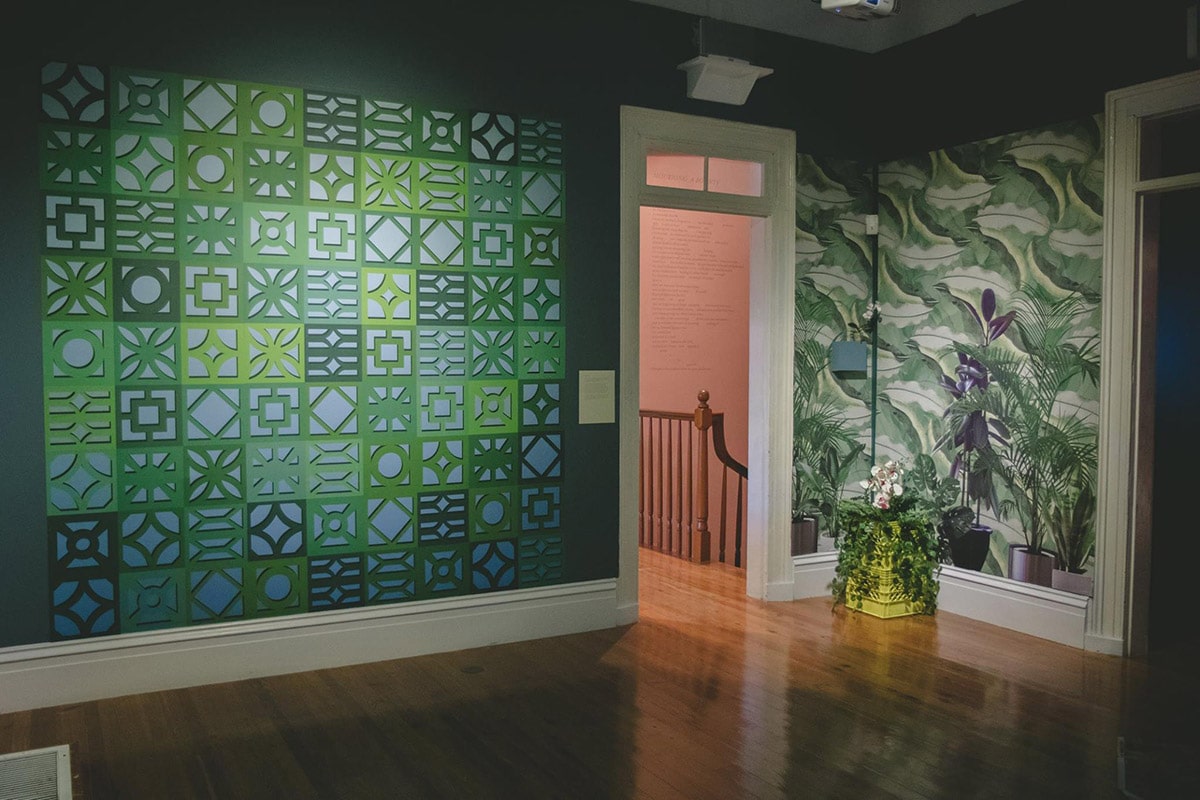 From the installation "For Tropical Girls Who Have Considered Ethnogenesis When the Native Sun is Remote" by Tiffany Smith.
Come see the storytelling in living colour at the NAGB for the newest iteration of the biennial National Exhibition, "NE9: The Fruit and the Seed". The exhibition will be on view through March 31st, 2019. And don't forget, this showing of art from The Bahamas is on view for FREE for locals every Sunday, and the NAGB is always free for Family Islander's visiting