"The Queen Staircase" is easily one of Bahamian Domestic's most recognizable works.
"It looks like it was done by a child" is the response given by most tour groups who stop in front of the Amos Ferguson work. Many of them, however, know the artist by name. This is for good reason; Ferguson is considered one of the country's foremost intuitive artists.
Born on Exuma to a sharecropping family, religion played a key role in Ferguson's childhood. His father, Robert, was a preacher, and a young Amos would spend evenings in Bible study with him. This influence would later take on great significance as the catalyst for Ferguson's painting career.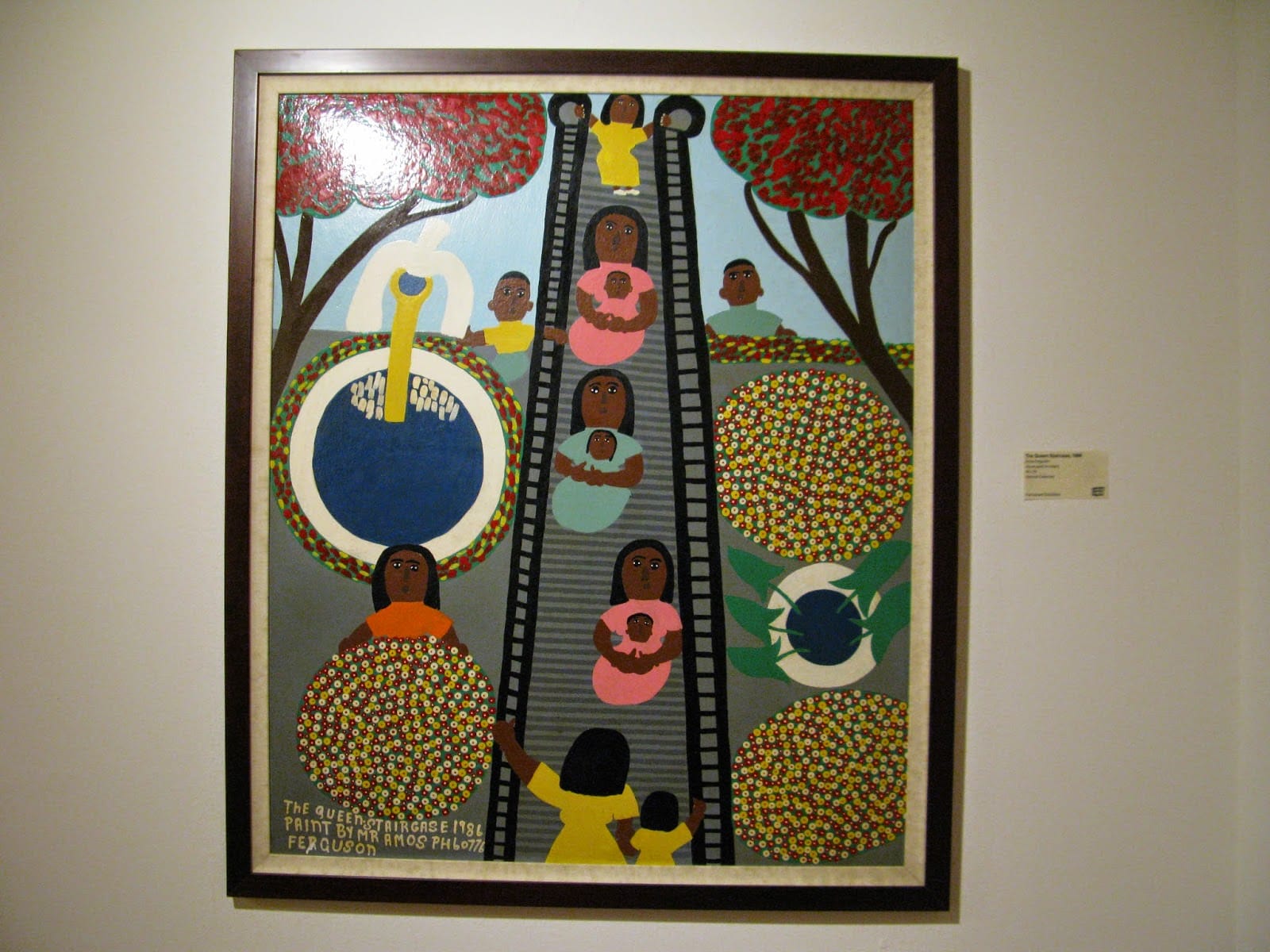 Ferguson moved to Nassau in his young adulthood to acquire a trade. He spent some time in the southern States as a contractual farmhand before moving back to New Providence, where he began making a living as a house and sign painter.
He was one day inspired by a relative's dream of divine intervention and began making art part-time. In his 50s, Ferguson quit his work as a house painter and devoted himself to art full-time.
Working with what he knew and had on-hand, Ferguson used house paints and cardboard or plywood to create. He utilized everyday materials, including nails, sticks and paint can lids to achieve uniform dots and circles. Many of his works are notable for their glossy appearance, resulting from his use of house enamel. Early on in his career, Ferguson would also varnish his works to enhance their sheen. The paintings were sold on Bay Street, in the straw market, where his wife, Bloneva King, worked.
His faith in the divine was evident in his works, which were heavily influenced by his religious beliefs – imagery of church choirs, a crucified Christ and biblical scenes was common.
Painting by invention – that is by inventing his own point of view of the world – the late artist's works are products of his imagination.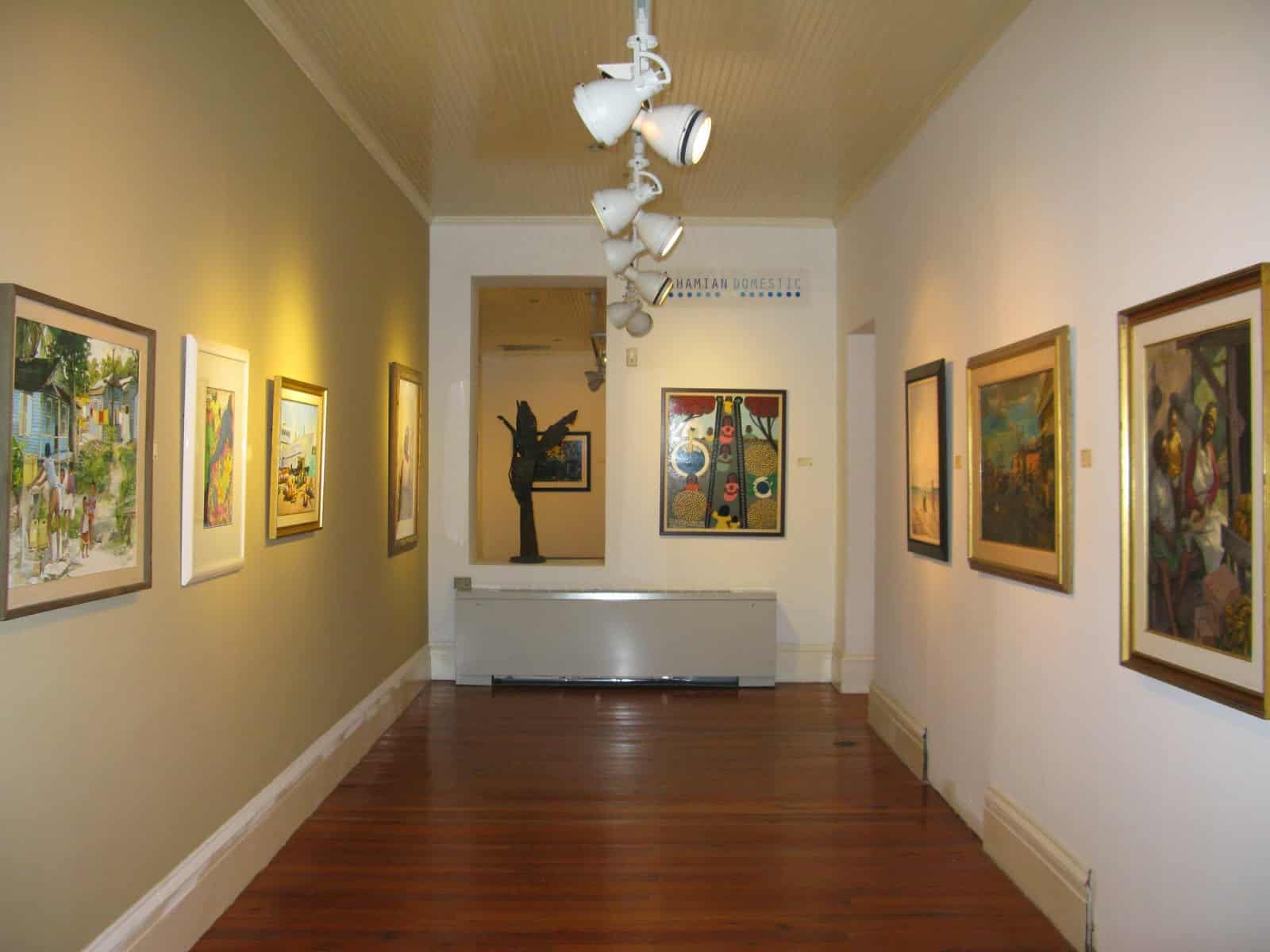 "The Queen Staircase" represents the historic landmark, known as the Queen's Staircase, located in Downtown Nassau. In the work are images of "cartoon-like" men and women at the iconic site. The actual staircase features 67 steps, all carved by hand from slaves, leading up to Fort Fincastle. There are 72 steps in Ferguson's painting, and on them are five women clad in similar dress, four of whom bear identical facial expressions. Ferguson's signature uniformed dots (flowers) can be found in the painting's shrubbery, and alongside them are nearly-identically-shaped leaves.
In 1978, a visitor from New York purchased an Amos Ferguson work from a Bay Street vendor. Developing an affinity for it over time, she returned and added more to her collection, which she showed to Ute Stebich, a curator of Caribbean art. Through his connection, Ferguson held his first exhibition, Paint By Mr. Amos Ferguson – after his key signature – in 1985 in Hartford, Connecticut. Since that show's traveling to 10 other U.S. cities, the name Amos Ferguson has taken on significance as one of The Bahamas' most celebrated artists.
To see "The Queen Staircase" and other works by Bahamian artists, visit the National Art Gallery of The Bahamas' permanent exhibition, Bahamian Domestic. The NAGB is open from 10 a.m. to 4 p.m. Tuesday to Saturday, and 12 noon to 4 p.m. on Sundays. The NAGB offers free admission to locals every Sunday.