By Malika Pryor-Martin
When you meet young people like Sharvez Woodside, age 17, the future of The Bahamas seems incredibly bright. A charismatic people person, his smile and laughter are infectious. We are not sure he's ever really met a stranger. Sharvez has a passion for the arts: song; craft; music; colour. He's an avid Junkanooer and is also a member of Rhythm & Youth, a national percussive orchestra, specialising in the traditional Bahamian music form, Rake & Scrape.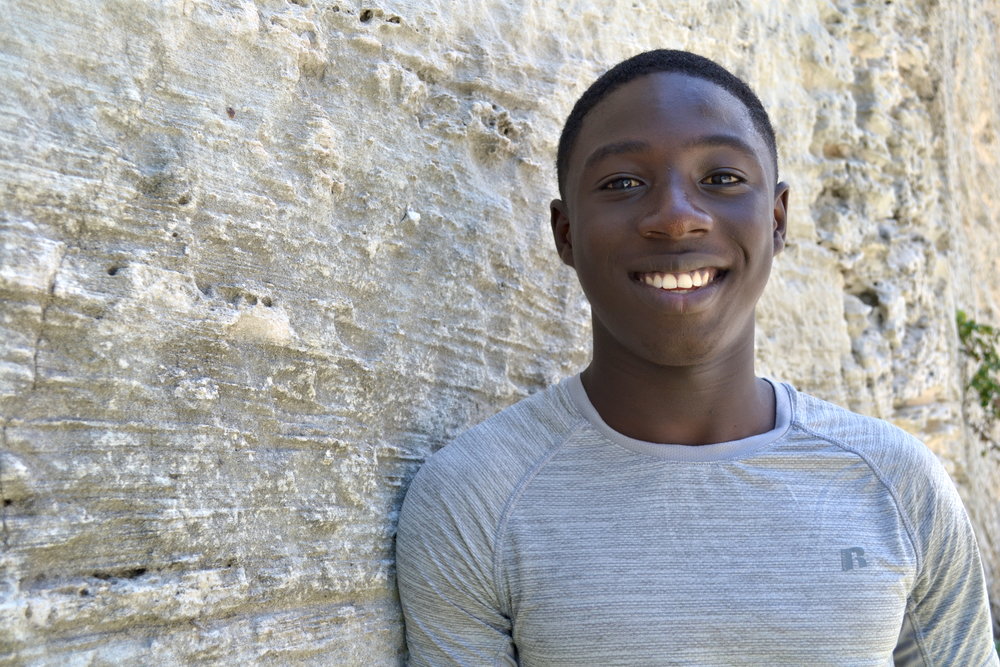 Portrait of Sharvez Woodside.
A native of Mastic Point, North Andros, Sharvez was surrounded by family and community in his small Family Island settlement. Supported by his parents, Sharee and Andrew Woodside, he pursued multiple creative endeavors – both in and beyond the classroom. When he finally met Elkino Dames, an artist and arts educator at Huntley P. Christie High School, Sharvez was ready to absorb every possible lesson he could learn from his capable teacher. Woodside describes Mr. Dames, "I look to him as a second father. I have learned so much from him concerning art but also what it means to be a man – taking responsibility and being accountable for what I do."  After discovering that Sharvez had taken the BJC for craft and done well, Dames encouraged him to pursue his BGCSE in the same focus area and additionally, to enter the E. Clement Bethel National Arts Festival (NAF). Sharvez, compelled to highlight Junkanoo, designed a head and shoulder piece made from natural and found materials.
As fate would have it, 2017, the year Sharvez entered the NAF, was the very same year the NAGB took over adjudication for the Art & Crafts section of the competition. Community Outreach Officer Abby Smith visited Andros and was thoroughly impressed by what she saw–so impressed, in fact, that she offered Woodside a full scholarship to attend the Mixed Media Art Summer Camp (MMASC), the NAGB's annual summer experience for young artists, ages 5-17. "I was so appreciative, happy and surprised when I got the news.", says Sharvez. The only thing he needed was a place to stay in New Providence, which he was able to locate, thanks to family. "In that moment I felt unique. I felt worthy. It made me realise that hard work really does pays off."
Summer arrived and so did Woodside to MMASC's Session One. At the NAGB's camp, he discovered new media, being pushed as a creative and artisan. He met new people with whom he became friends as well as those who challenged him to be an even better version of himself. When his session ended, he wasn't quite ready to go and asked Smith, also the camp's coordinator, if he could return, not as a camper, but as a volunteer camp counselor. "Being a camper wasn't enough. I wanted to assist the great artists who were teaching us", especially Elkino Dames, his teacher and a Session Two MMASC instructor. The camp came to a close after six weeks and Sharvez began his first-year as a student at the University of The Bahamas.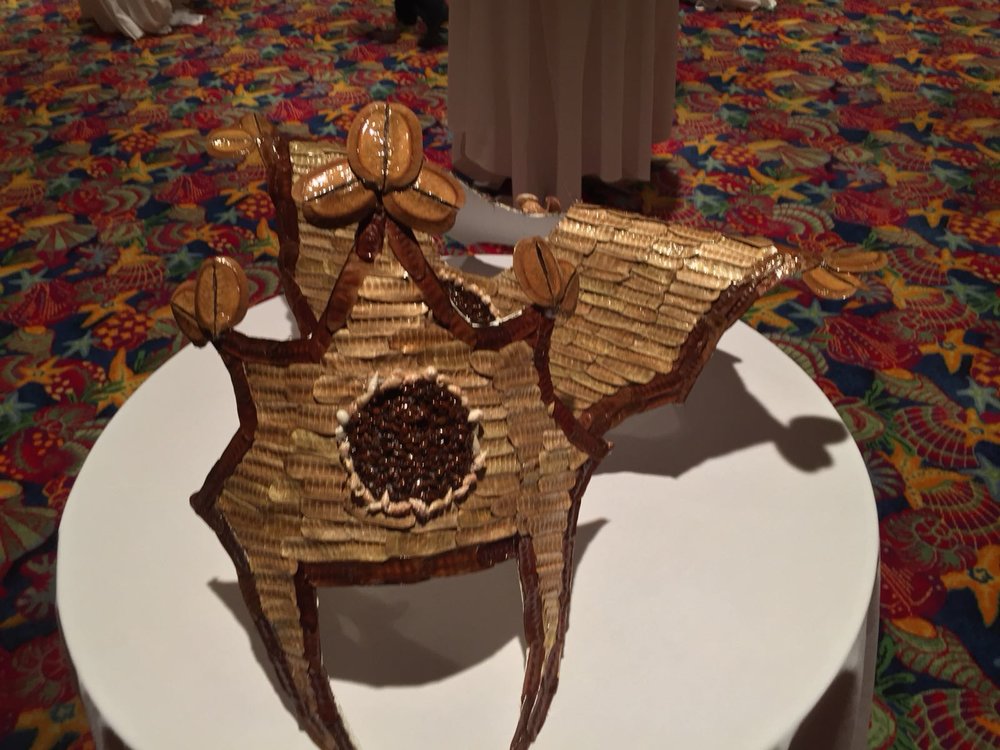 Junkanoo head and shoulderpiece by Sharvez Woodside.
However, Sharvez has continued to engage with the NAGB. What began as a chance meeting and a wonderful opportunity offered and accepted, has since blossomed into a long term connection to his National Art Gallery of The Bahamas. Whether volunteering for events, studying in the museum's galleries or returning for his second year as an MMASC volunteer counselor, the once high school senior, now second year Music Education major, is proof that the work of art is in more than artistic creation. In fact, it is in the art of self-creation.
The NAGB's Mixed Media Art Summer Camp 2018, begins on Monday June 25th. Session Two begins on July 16th. For more information or to register, visit nagb.org.bs/mixed media. The National Art Gallery of The Bahamas wishes to thank our generous sponsors and partners that help to make the MMASC possible: Lyford Cay Foundation; ALIV; Marco's Pizza; GrayCliff; Commonwealth Bank; and the IFAMM&OES.