By Amanda Coulson
On November 16th-19th, 2017, hundreds of artists, curators, collectors and other art advocates, descended on New Orleans for "Prospect" its citywide art triennial, now in its fourth edition and currently subtitled "The Lotus in Spite of the Swamp," curated by Trevor Schoonmaker (Chief Curator at Duke's Nasher Museum). Founded after Hurricane Katrina, Prospect New Orleans was the brainchild of curator Dan Cameron, a self-confessed "Nola-phile" who had been invited to a public meeting about the role of artists in rebuilding their ravaged city. Having curated other international art events—in Taipei and Istanbul—and having seen first-hand the economic benefits that such happenings bring to their host cities, Cameron felt New Orleans was ripe for its own regenerative art project.
Like similar cultural events—the Venice Biennale being the mother of them all—Prospect invites contemporary artists from all over the world to participate, exhibiting in both traditional venues—such as local museums and galleries—but also public spaces and other unexpected sites, where everyday folk might stumble across art interventions they might otherwise not engage with. Aside from its impact on cultural tourism, with tens of thousands of people travelling to the city just for the event, its larger effect has been how artists have embraced the triennial's social mission in creating projects that connect to the city's history, culture, people, and institutions. Prospect, in fact, prides itself on facilitating the connection between "high art" and the deeper cultural landscape of the city itself, with its rich and diverse traditions of music, Mardi Gras Indians, second line parades, and other popular cultural forms, many of which are reminiscent of our Junkanoo, Goombay, Rake'n'Scrape and so on.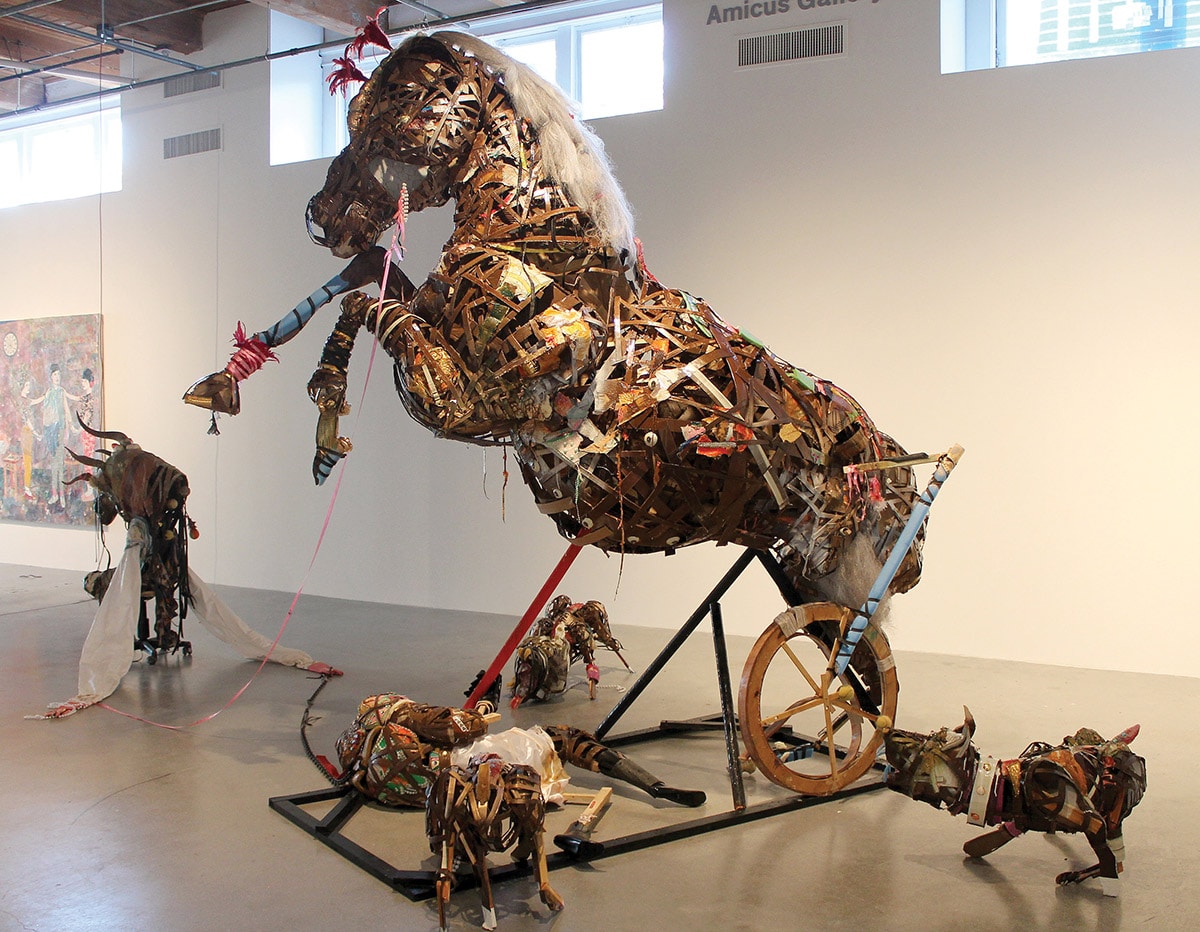 Lavar Munroe, Of the Omens He Had As He Entered His Own Village, and Other Incidents That Embellished and Gave Colour to a Great History (2017). Deconstructed Junkanoo costumes, found fabric, bullhorns, beads, rubber, tennis balls, ribbon, mesh, wood, mask, synthetic hair, feathers and cardboard. Courtesy of the artist.
That is, while bringing in international artists from the outside, Prospect asks its audience to delve into the richness of New Orleans culture, as seen through the eyes of artists and locals, a lesson that we, as Bahamians, could learn from. Rather than cutting ourselves off from the world in an attempt to preserve our heritage, perhaps we might want to think about how outreach—whether inviting others in as well as extending ourselves outward—could be a way to heighten our own care and consideration for our institutions at home.
Prospect.4's curator Schoonmaker commented, "All of the artists were incredibly thoughtful in the creation and selection their work, making sure that what we showed made sense within the city of New Orleans. The result is work that feels symbiotic with the culture and people of the city, and therefore has the ability to bring new people into conversation with contemporary art. The opening produced a genuine feeling of community, which is hard to come by, but something that I strive for in curation."
While the first Prospect (2008) opened to a huge fanfare and saw 88,000 visitors (with 22,000 from out-of-town), the next 1.5 edition—a halfway stop while the biennial/triennial re-branded itself (2010)—saw a dip to 29,000 visitors. Prosect.2's (2011) audience soared back up to 72,000 and Prospect.3 (2014) saw more than 100,000 local, national and international visitors. It was this edition, curated by the current Director of the Pérez Art Museum Miami (PAMM), Franklin Sirmans, which was the first to issue an invitation to a Bahamian artist, with Tavares Strachan's stunning work in which a 27-foot high, billboard-sized hot-pink neon sign reading "You Belong Here" was mounted on a river barge that cruised the Mississippi River at night. The poetic message was appropriate for many other artists of colour of from regions considered marginal to the art world and could interpreted as an affirmation or a veiled question.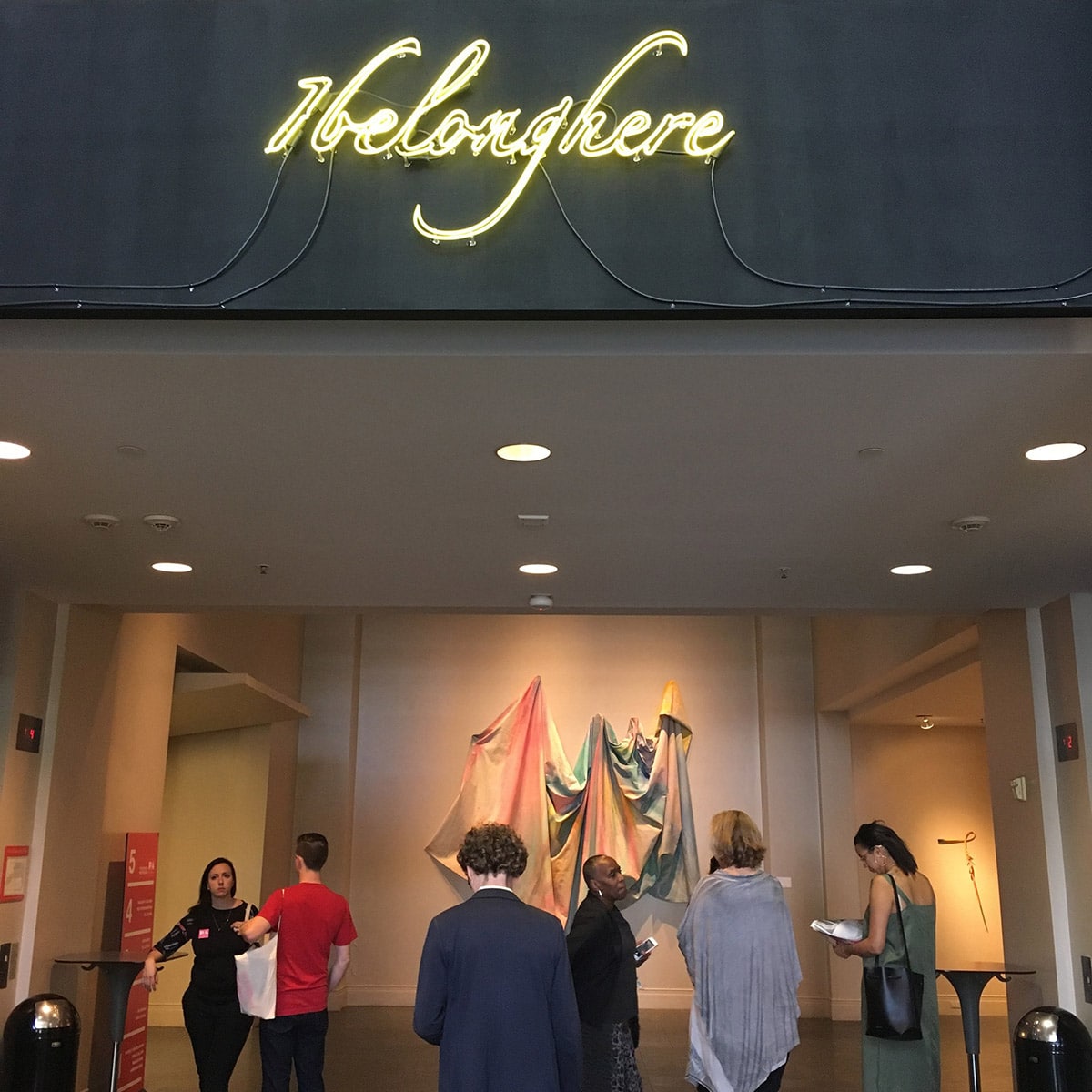 Tavares Strachan, I Belong Here (2012), yellow neon, installed at the Ogden Museum of Southern Art, New Orleans.
A similar, more diminutive version of this work—"I Belong Here" (2012)—in yellow neon currently hangs in the entrance of New Orleans' Ogden Museum of Southern Art and was, again, a statement by the artist as to the aptness of his presence in the institution, and as a welcome and affirmation to the diverse visitors coming into the museum. Central to this iteration of Prospect, which has placed even more of its focus southward, with a greater emphasis on art and artists who engage with the American South and the Global South, particularly those from North America, Central America, South America, the Caribbean, Africa and the European countries that colonized these regions.
Both of Prospect's last editions' curators have been to The Bahamas at the invitation of the NAGB, doing studio visits and appearing as guests on the radio show "Blank Canvas," and both have, in the United States at their various institutions, worked incredibly hard over the last 15 years to broaden the representation of people of colour in the art world as artists, professionals, and as the positive, active subjects of the work itself. On the increase of these voices at international art shows globally, Sirmans comments, "These are the fruits of longstanding conversations that have been happening over years. Personally, when I saw Trevor (Schoonmaker's) shows the core idea was that we could learn diversity or globalism from the recent past (post-conceptualism) and it all somehow made sense."
Schoonmaker's Prospect.4's artist list clearly shows how this shift has taken place—with their being almost equal representation in terms of race and gender—and out of 73 artists, almost 10% identify as being of the Caribbean, including Sonia Boyce, María Magdalena Campos-Pons, Andrea Chung, Satch Hoyt, Zak Ové, Horace Ové, Alexis Esquivel and our very own Lavar Munroe. As one of the most important contemporary art survey in the US, having a Bahamian voice—for the second edition in a row—is obviously a major achievement for our small but feisty nation and one of which we should all be incredibly proud.
Furthermore, in keeping with the show's concept of beauty flowering within inhospitable surroundings, Munroe created a work that rose to the occasion, literally as well as metaphorically, being over 12 feet high. Entitled "Of the Omens He Had As He Entered His Own Village, and Other Incidents That Embellished and Gave Colour to a Great History" (2017) his piece is a massive cardboard sculptural installation, towering over the visitors.
Munroe states.
"I introduced elements of the Bahamian cultural lineage, specifically in the form of discarded Junkanoo costumes that I decided to repurpose. Throughout my career, my work has thrived on a savviness and sophistication in my material use, whereby I take on the role as an alchemist of sorts.  Materially, it was important for me to use discarded Junkanoo costumes, as it gave me an opportunity to lend the history of a nation to a wider audience. Historically my choice of material – performed and discarded Junkanoo costumes—simultaneously served as the detritus from thousands of Bahamians that toiled and laboured to create elaborate artistic expressions that originated from our folk ancestral past but also conjured performative spirits that crossed over into the repurpose sculpture. Though the exhibited work was not physically performed in its current institutional setting, it was once performed in a public space, by hundreds of Bahamians from numerous social strata. The work I created for Prospect New Orleans holds the physical DNA in the form of literal blood, sweat and tears of The Bahamas. Other material in this work was sourced from a recent trip to a remote village in Tambacounda, Senegal, called the Sinthian Village. This material included found fabrics, animal horns and rope used to detain animals prior to them being slaughtered, among other things. Together, along with the material found and used on site in New Orleans, the final work draws a parallel that connects historic lineages from these very similar, yet different cultural spheres within the world."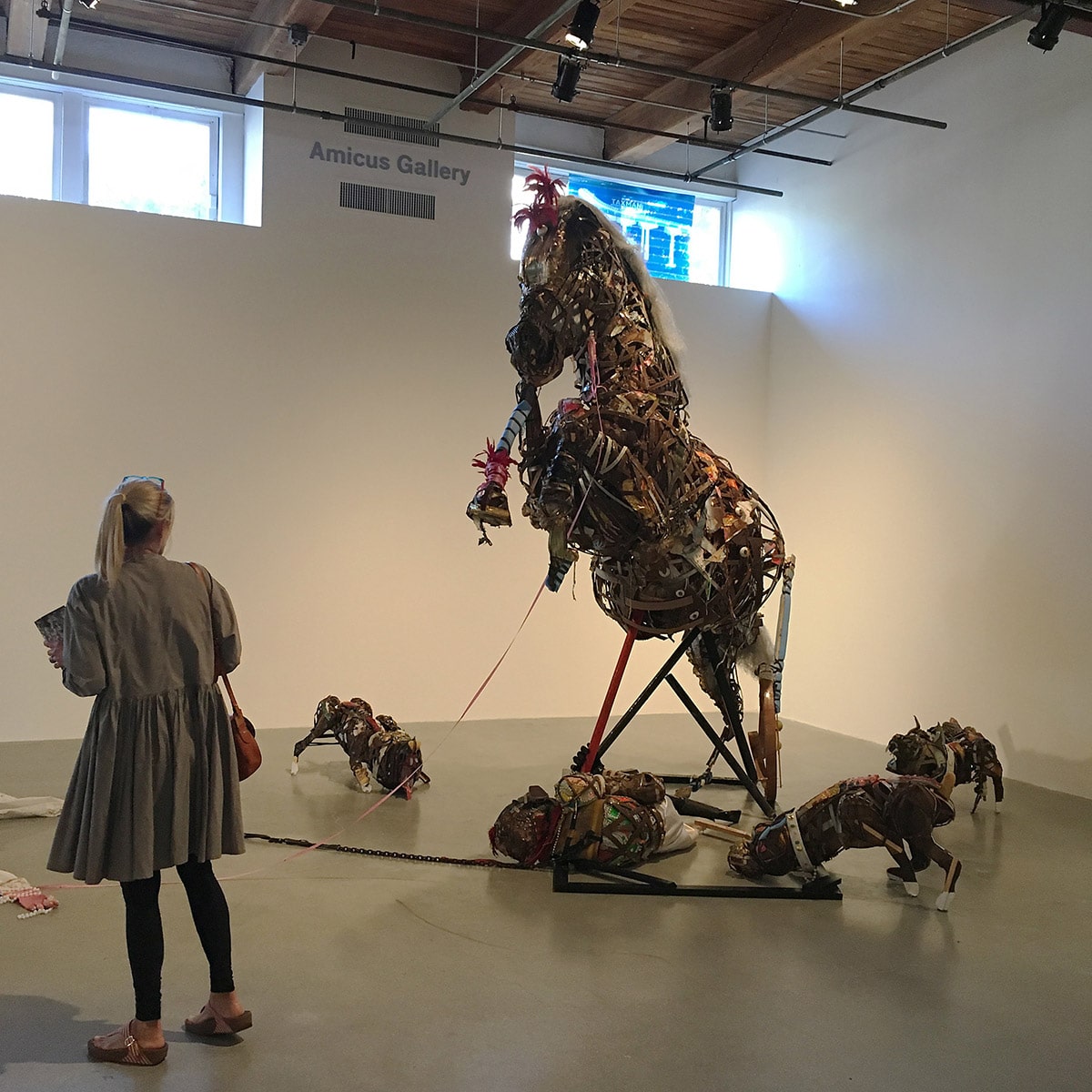 Install shot of Lavar Munroe's, Of the Omens He Had As He Entered His Own Village, and Other Incidents That Embellished and Gave Colour to a Great History (2017).
In both cases—Strachan in 2014 and Munroe in 2017—the work made an impact that was felt literally around the world and makes our nation more and more recognizable on the international stage for more than the ubiquitous sun, sand and sea. Even something as simple as an exhibition label stating that the work on show "was made possible in part by The National Art Gallery of The Bahamas" takes our name out into the world in a meaningful and tangible way.
Assessing the impact that inclusion in a show like this can have on an artist's career is difficult, but certainly they have increased their visibility tenfold of not more. It's safe to say that before Strachan implemented his outstanding Bahamian Pavilion at the Venice Biennale (2013), was invited by Sirmans to Prospect.3, followed by Munroe's invitation by Schoonmaker, The Bahamas itself was not generally considered a centre for "high" art. Indeed, a general reaction to stating what I did and where I worked was "Oh, really? Do they have art there?" Slowly but surely, we are changing this perception to elicit the comment "Oh, wow, they really have some art there!"