By Averia Wright
This gallery delves into the sub-theme of balance, which in matter of Kingdom Come itself is tied to spirituality; be it societal, individual or the lack thereof. Finding Balance, Tyrone Ferguson's aluminum sculpture distinctly focuses on this theme. The balancing of a white disc and a black disc shows the constant point of equilibrium that we all try to find in our lives on a daily basis, and seeing that the figure is on a tight rope this stability is reiterated with other things that may be occurring in the world/society, that we walk the tight rope in hopes to survive.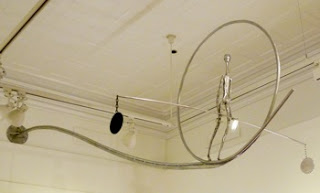 Finding Balance by Tyrone Ferguson
Toby Lunn's Alchemy and Samadhi makes the connections to spirituality; directly points to heaven and hell, with the language of the title alone being from a Psalm and the lightness/whiteness of the heavens in the top of the diptych and hell being in the darker colors at the bottom. Lunn's piece speaks directly to the biblical words of the coming of the Kingdom.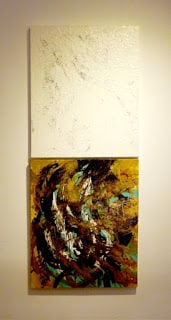 Alchemy and Samadhi by Toby Lunn
Night and Day-O looks at the correlations between living and dying inside Bahamian society. The images that we reflect to the world and some social issues that actually occur at an alarming rate. Dave Smith's message in this piece is very strong and the balance of good and bad, right and wrong is seen blatantly. The justice of it all and our attempt at survival looks directly into our identity.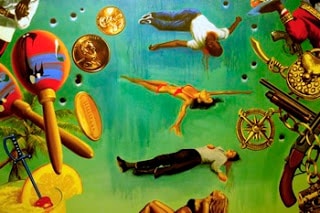 Night and Day-O by Dave Smith
National Exhibition (NE) 6: Kingdom Come is currently on display in T1 and T2.