The National Art Gallery of The Bahamas decided to feature the particular film, Pollock, in that Jackson Pollock's technique and style heavily influenced Kendal Hanna's works. By understanding Pollock's theory and reasoning, viewers can have a greater appreciation of Kendal Hanna and his work.
Pollock begins with Pollock, (played by Oscar nominated actor Ed Harris), signing a Life magazine where he is featured. A crowd of people surrounds him and the look draped across Pollock's face gives the impression that this moment of fame is all too overwhelming. Flash back to 1941; he is living with his brother in a small apartment in New York. Occasionally exhibiting at galleries in group shows, Pollock eventually meets his future wife, Lee Crasner (played by Marica Gay Harden). Pollock is introduced to Peggy Guggenheim (played by May Madigan) who he impresses with his artwork and she in return organizes Pollock's first major show on October 16th, 1942. As his art career takes off, he encounters a host of important figures in the art world such as Clement Greenberg, a major art critic and famous American painters such as Willem DeKooning, Franz Kline and Helen Frankenthaler. Throughout Pollock's life, he struggles with alcoholism and displays an increasingly destructive and explosive personality. Casner later asks Pollock to marry her, and subsequently assists Pollock by propelling his career forward. Realizing Pollock's art and well-being is at stake, Crasner moves him to the Hamptons. Whilst residing in the Hamptons, Pollock works incessantly, creating amazing works that he was not able to do. His breakthrough was fast approaching as Pollock accidentally discovers his now famous splatter and drip style. Unfortunately, this critical acclaim only spun Pollock further out of control. During this period, Pollock began a love affair, drank incessantly and produced less work. When Pollock managed to produce a piece it was not very well received. In the end, Pollock along with two other female passengers, Edith Metzger and Ruth Kligman (his mistress) were in a one-car collision. Ruth Kligman was the only survivor (Nicoli 2000).
In 1949, Life Magazine posed a question "Jackson Pollock: Is he the greatest living painter in the United States )?" (White 2011). From this feature, America's first "Art Star" was born. Later, Pollock is credited as one of the most influential figures in the abstract expressionist movement. During his time, however, Pollock was called everything from a degenerate to pure inspired genius, a debate that still continues to this very day (Pollock 2000). Regardless, there is no doubt Pollock's affect on modern art will not soon be forgotten.
Ed Harris (Pollock) wears a number of hats as producer, writer and ultimately director of this film. Ed Harris is excellent as Pollock and his direction is light, intentional and character motivated. The film does not feel episodic unlike a lot of other film biographies. Each scene moves and transitions well into the next. Harris resists the temptation to allow the art to drive the film emotionally instead the characters are the focus and the work is second nature but very present. The film also shows restraint in psychologically analyzing the artist, a decision that would have tarnished the film, overshadowing the important relationships he shared with the people around him. Marcia Gay Harden does an excellent job as Crasner. Sympathetic, patient and forceful are just a few words to describe Harden's character. Crasner truly believed in Pollock despite his destructive behavior. One of the most powerful scenes from the film is when Pollock suggests they have a baby. Crasner rejects the notion, subsequently enraging Pollock. This causes Crasner to respond with, "I will not bring another life into that… We are painters Jackson!" (Pollock 2000).
Pollock philosophized a great deal about his work and process, "A method of painting is the natural growth out of a need. I want to express my feelings rather than illustrate them"(Falkenbury and Namuth 1951). The film paints an empathetic image of an artist who simply wanted to create original work without criticism. Pollock's experience is an emotional one. The photography is wonderfully rendered like that of a Rembrandt painting. Appropriately so, as Pollock was somewhat influenced by the artist. In the end, the film is about the artist at work, not the artist waiting for inspiration but his ability to do his work regardless. He did not wait for some external force but worked from within. Pollock is tragic but not depressing. This is what all biographies about artists should aspire to be. Triumphant, brave, honest and truthful; Pollock delivers.
-JP
Works Cited
Jackson Pollock 51. Dir. Paul Falkenberg and Hans Namuth. Youtube. 1 Dec. 1951. Web. 23 Oct. 2011. .
Nicoli, Lara. "Pollock." FilmFestivals.com. Film Festivals. Web. 23 Oct. 2000. .
Pollock. Dir. Ed Harris. Prod. Ed Harris. Perf. Ed Harris. Sony, 2000. DVD.
White, Anthony. "Jackson Pollock – Before Blue Poles." National Gallery of Australia. The National Gallery of Australia. Web. 25 Oct. 2011. .
This film is available at the NAGB Art Library.
Feel free to send us a comment or email, we look forward to hearing from you!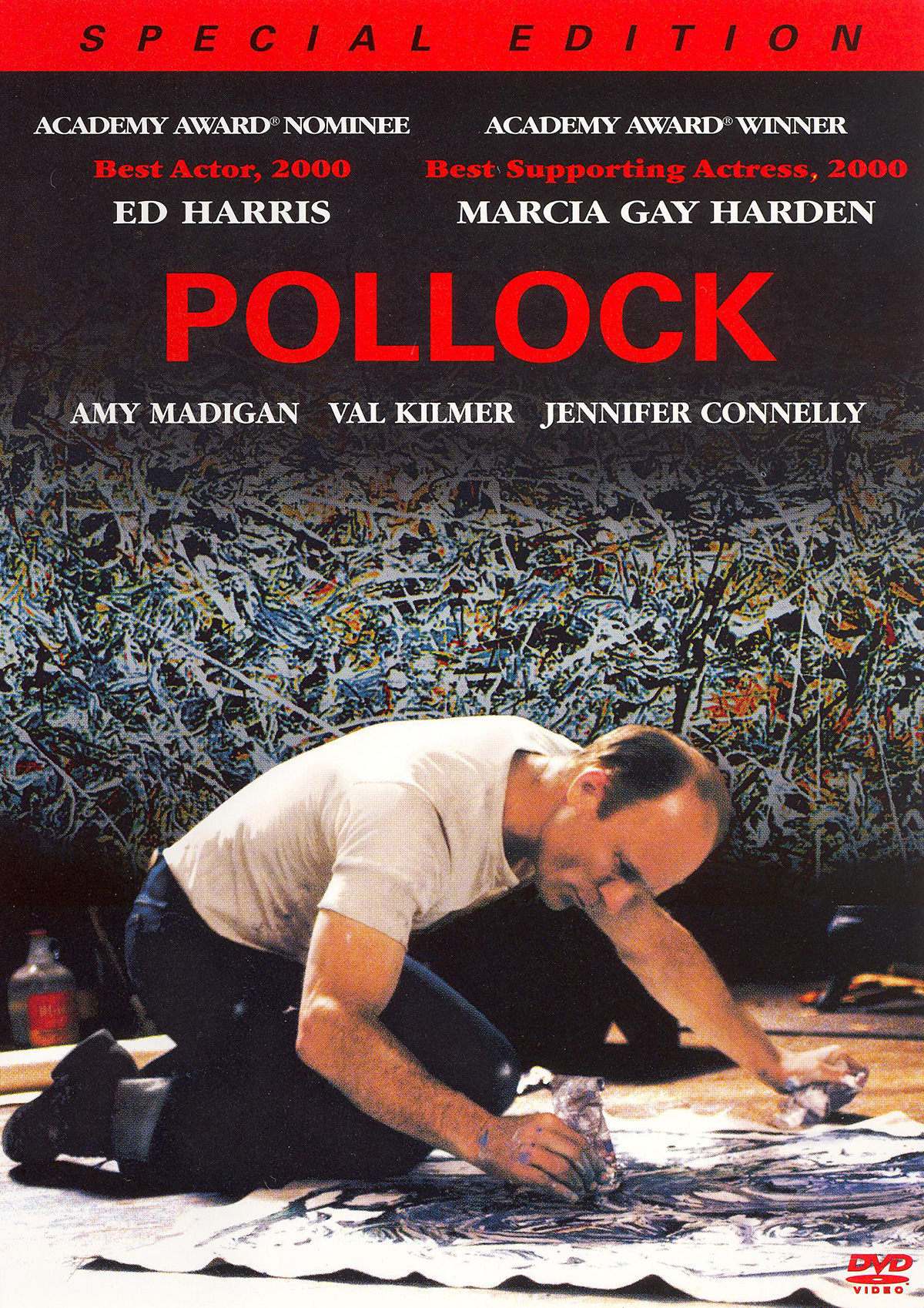 Pollock. Dir. Ed Harris. Per. Ed Harris, Marcia Gay Harden, Amy Madigan, Val Kilmer, Jennifer Connelly Jefferey Tambor. Sony, 2000.