By Kevanté A.C. Cash
NAGB Correspondent
One of the beauties in the Bahamian creative landscape is the ability the community has to expand and build upon the precepts and concepts of art and artistry in times past to create what exists today as contemporary art. Artists of such a genre tend to incorporate a "voice" within their work that speaks toward social and/ or political issues they may find interest in and seek to advocate for, while ultimately staying true to their practice and sometimes, even honouring master artists they've been inspired by.
Artist Christopher Outten does just that with his most recent body of work entitled "The Cultural Surface" displayed within his debut exhibition held at the Doongalik Art Studios during the month of February.
I had an opportunity to attend the show's opening night and host a conversation with Outten about the process in preparation for the show and how it finally feels to have a seat at the table among peers and the greats.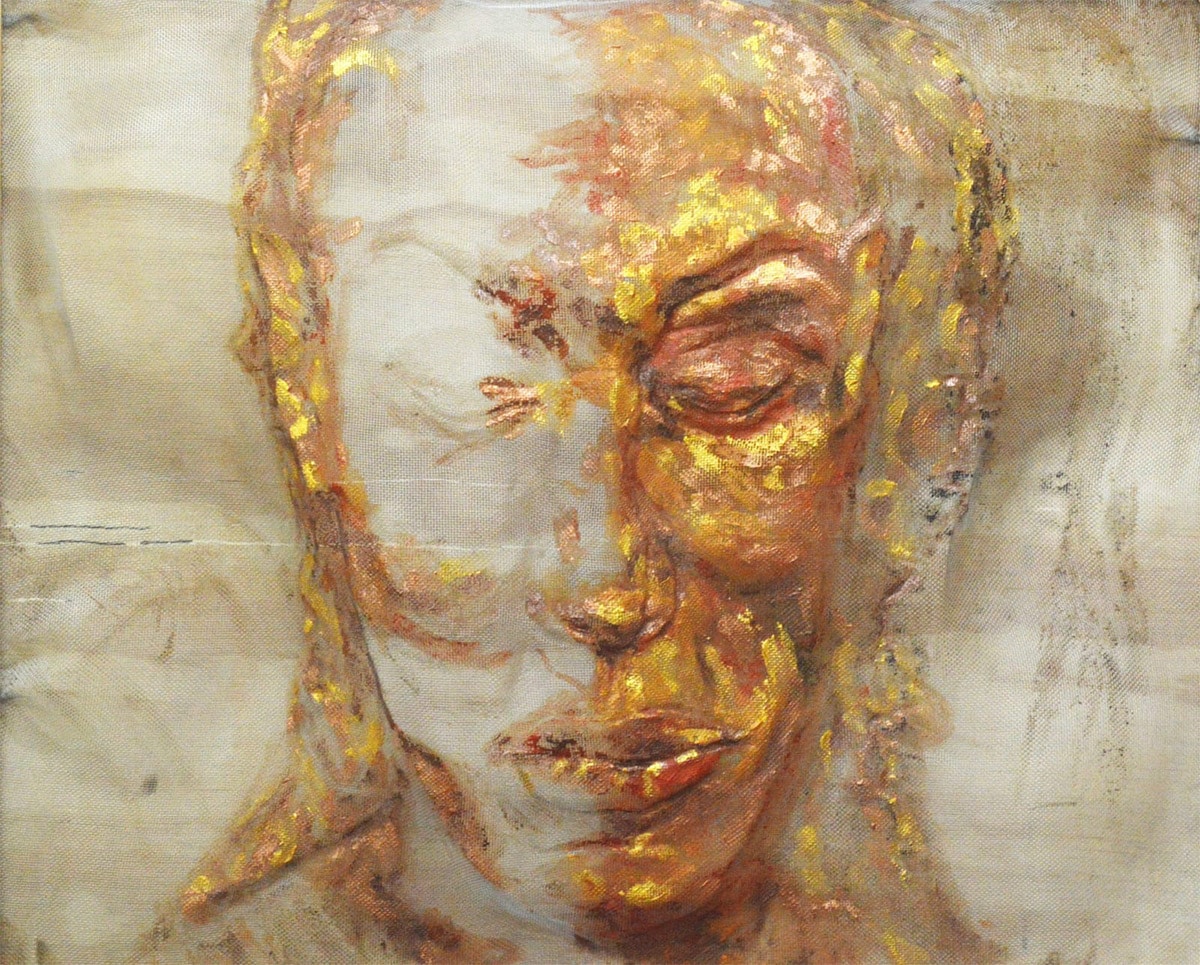 Contempt. Assemblage, (2019). Christopher Outten. Wire mesh and metallic paint. Image courtesy of the artist.
Kevanté Cash: Congratulations on your first show! Tell me though, why is now the 'right' time to host it especially after having been in the art scene for years?
Christopher Outten: Thank you! I honestly felt as though my personal development needed focus to pursue an exhibition so intently. The work ethic I acquired while preparing for this show and working a day job, has granted me new levels of discipline I would have not obtained being idle. Preparing for the show has pushed me to improve on my painting, building skills, and communicative abilities with fellow artists and the Bahamian audience.
KC: How do you feel about the process of it all?
CO: I usually work on multiple things at the same time. This helps me to carry ideas over and elaborate on other pieces. Same with my sculptures, the 2D carries over to the 3D plain and vice versa. Various things happen at the same time which influences each other. By creating in this way, I find that the works take different stages where I constantly revisit them and they mature alongside me. The time frame usually takes days, weeks and in the case of this exhibition months to complete. It's a rewarding feeling to see all of the pieces I worked tirelessly on, exhibited and enjoyed by the Bahamian people. It fills me with immense pride and I can't wait to do it again.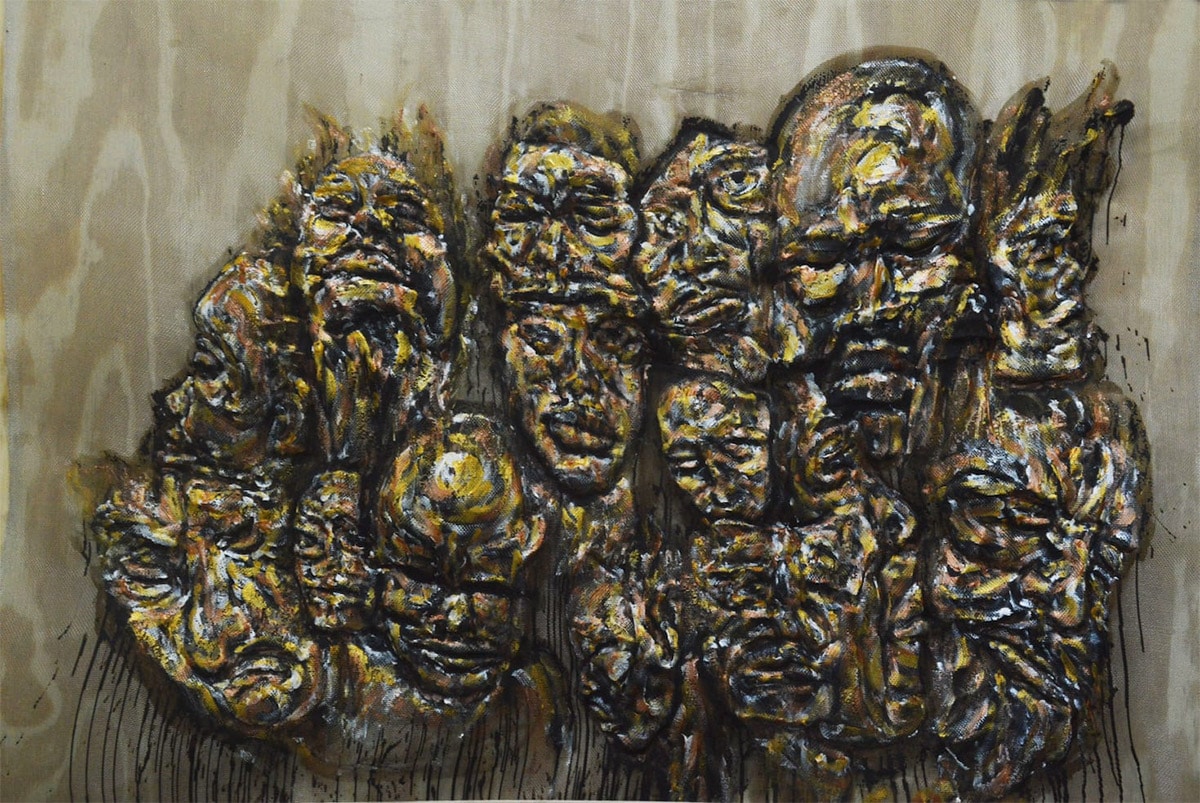 Different fabrics same thread, (2019). Christopher Outten. Wire mesh and metallic paint. Image courtesy of artist.
KC: Explain the theme.
CO: The theme of this exhibition is simple – it strives to display people, their emotions and activities in a sincere light.
KC: Which master artist, Bahamian or global, would you say you're inspired by most and how is it visible in your work?
CO: I would say I'm inspired a great deal by Bahamian artist John Beadle. I admire Beadle's multidisciplinary approach in his practice and I consider him to be the ideal artist. He is somebody who takes pride in his work, is unapologetic about what he produces, and has the work ethic and determination to make a livelihood out of his passion.
KC: Of all the pieces displayed in this exhibition, which was your favourite to produce and why?
CO: The wire mesh faces are definitely among my favourite pieces. I had the most concentration and attachment creating them because they are original concepts I created.
KC: Which was your least favourite?
CO: I don't particularly have a least favourite. However, I do feel as though I can improve in all aspects moving forward in the future.
[]
Riot 1, (2019). Christopher Outten. Mixed media on canvas. Image courtesy of the artist.
KC: What has feedback been like for you?
CO: Extremely encouraging from everyone. Staff on my present and previous jobs, students at the college and school I teach at, churchgoers, artists themselves and the Bahamian community at large have all shown support and appreciation for the work.
KC: What do you look forward to next?
CO: I would love to expand my practice to include studying people and cultures in countries that I have yet to visit. An aspiration of mine is being able to continue my education within the arts, but also pursue studies in Anthropology to help improve my creative practice.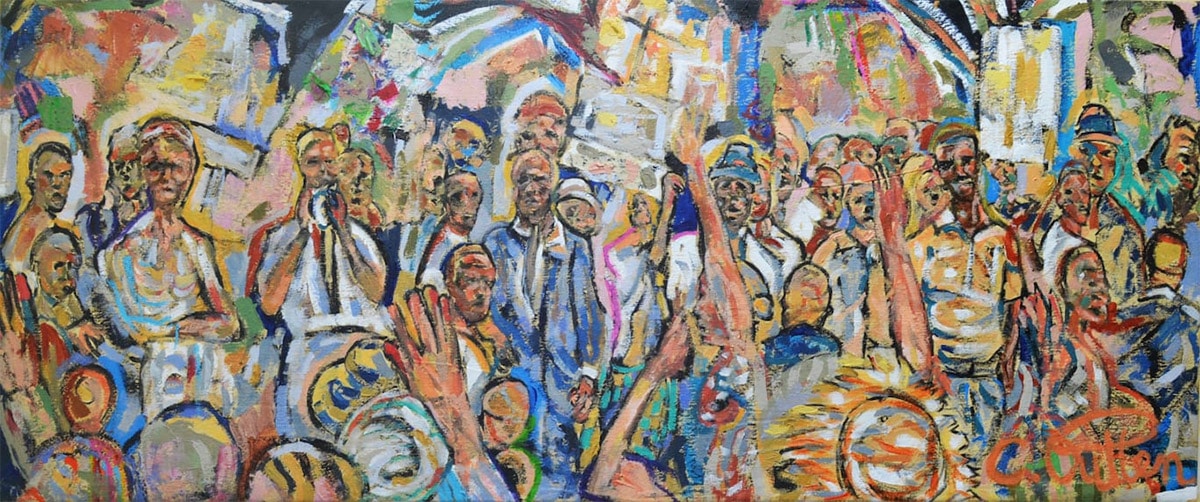 Provision 1, (2019). Christopher Outten. Mixed media on canvas. Image courtesy of artist.
The National Art Gallery of The Bahamas celebrates with Doongalik Art Studios, a seemingly fitting creative space to host and celebrate new works produced by Bahamian artist Christopher Outten in his first exhibition "The Cultural Surface".